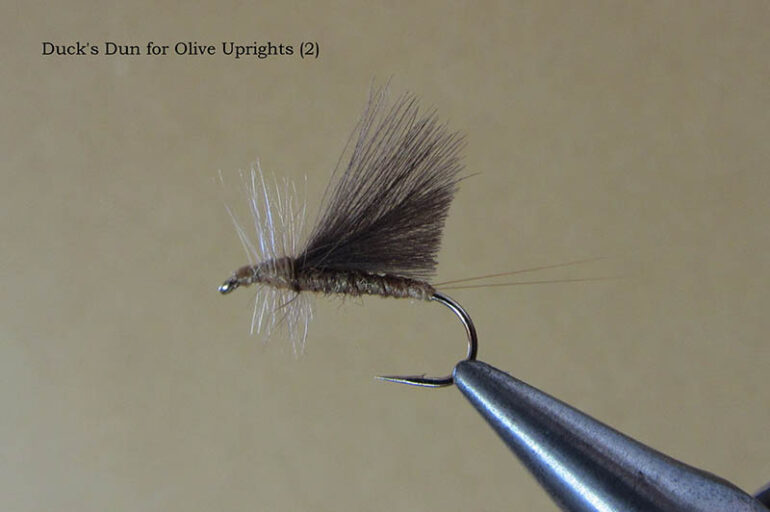 Duck Dun Patterns
Dave Collins gives his reasons for using this pattern.
Whilst I first fly-fished back in the mid-sixties, I didn't really get back to fly fishing regularly until the late nineties and didn't tie my first fly until 2001. By then, I had got as far as discovering that F flies and parachute patterns catch fish, but had never tied any flies of my own.
Ian McKenzie from Fulling Mill, whose F flies I had been buying, advised me on the materials they used for them – Fine and Dry dubbing (now Superfine) and Fulling Mill All-Purpose Lightweight (APLW) hooks – and off I went.
What a buzz to catch a fish on your first fly, in my case a BWO F fly, and an unforgettable red-letter day down on the Wiltshire Avon. Such days we all doubtless remember.
Whilst expanding my meagre repertoire and limited tying skills, I had been buying materials from Peter Smith at Niche Products and, on his website, came across an article about Hans van Klinken "Universal Baetis paradun (check it out – just Google "Universal Baetis On the web, the body dubbing recommended was, and still is, Flyrite 44, which is Ecru, a beige colour, whereas the accompanying photograph appeared to be of Flyrite 42, which is Dark Olive Brown, which made much more sense and so this is what I used for this pattern. If someone as knowledgeable as HvK considered this Baetis pattern to have universality, then that was good enough for me so, as well as tying it, I also tied some F flies, using the same body but without any tails.
Whilst I caught fish on the paradun, I seemed to have much more success with the simple F fly and continued to use it, in sizes from 20 to 14, for many years afterwards, initially on the Avon and then up here in the Wye and Usk catchments, and have caught hundreds of fish on it. Around the same time though, I also started tying variously dubbed CdC loop-wing emergers and also Charles Jardine Duck Dun, but it wasn't until 2010 that I started experimenting with the Ducks Dun pattern as a generic model. The first pattern I tied was one based on the Universal Baetis (UB) F fly and I just wish that I had started experimenting with these patterns sooner because its performance was a revelation!
There are plenty of Baetis olives in the borders rivers and streams – Large Dark Olive (B. rhodani), Small Dark Olive (B. scambus), Medium Olive (B.vernus) – and you will doubtless have favourite olive patterns of your own, but you may want to try this one.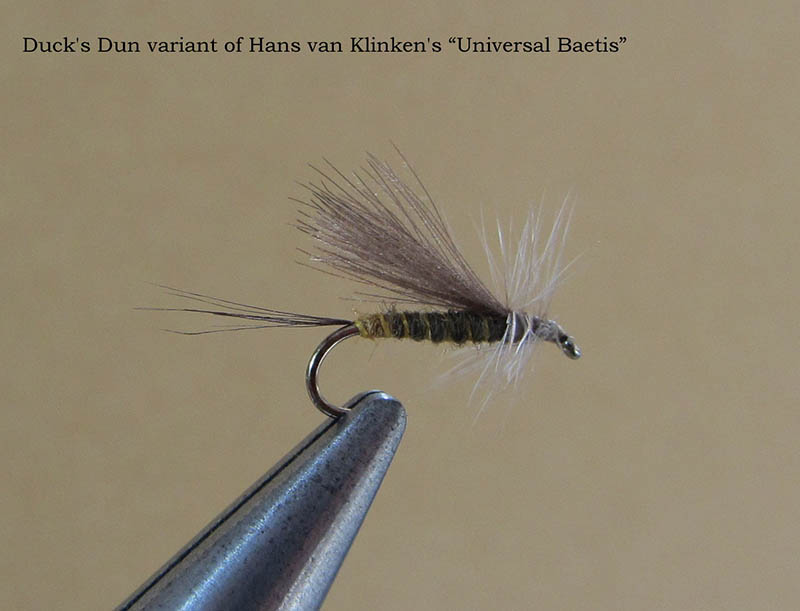 The materials for the Universal Baetis Ducks Dun are:
Hook: Fulling Mill All-Purpose Lightweight, typically size 16 (can also be larger or smaller)
Thread: Uni 8/0 Tan or Sheer 14/0
Tail: Dark basal fibres from large red game or badger cock hackles
Body and Butt: Flyrite 17 Golden Brown
Rest of body: Flyrite 42 Dark Olive Brown
Rib: Pearsall's silk 6a
Wing: Four or five CdC plumes, usually cocked
Thorax hackle: Medium dun or medium brown dun cock hackle, trimmed to a V underneath
Like the Universal Baetis, F fly, the Universal Baetis Ducks Dun (or UBDD as it has come to be known!) is a fly for all seasons but, unlike F flies which can be hard to see in dappled shade and in riffles. The front hackle shines like a beacon so, with ageing eyesight, I can see it at most times, a major bonus!
I usually tie it in a size 16 (which is a hook shank of 7-8mm. on an APLW hook, Fulling Mill All Purpose Lightweight), but larger and smaller sizes are useful as well.  I first used it on the Usk at Talybont over a couple of days in May 2010 and immediately caught lots of trout, also including three fish between 1.75 and 2.25 lbs and this was one of them: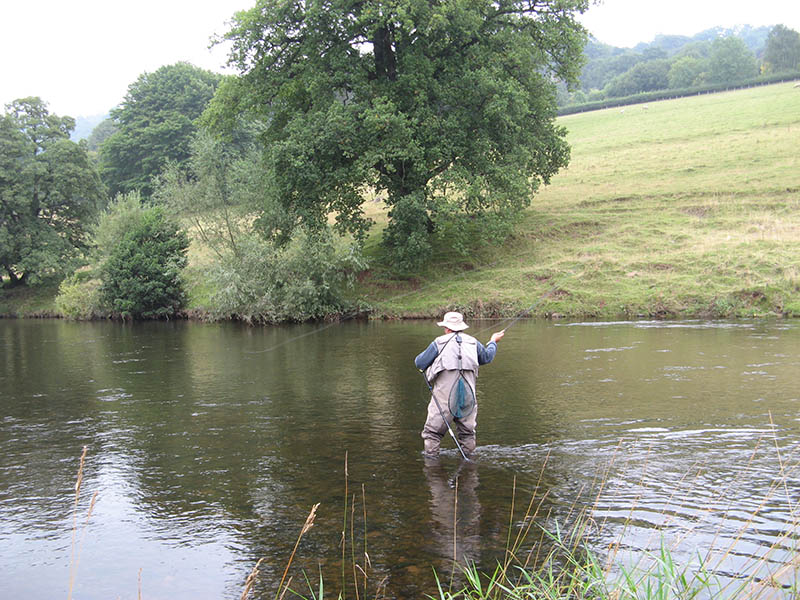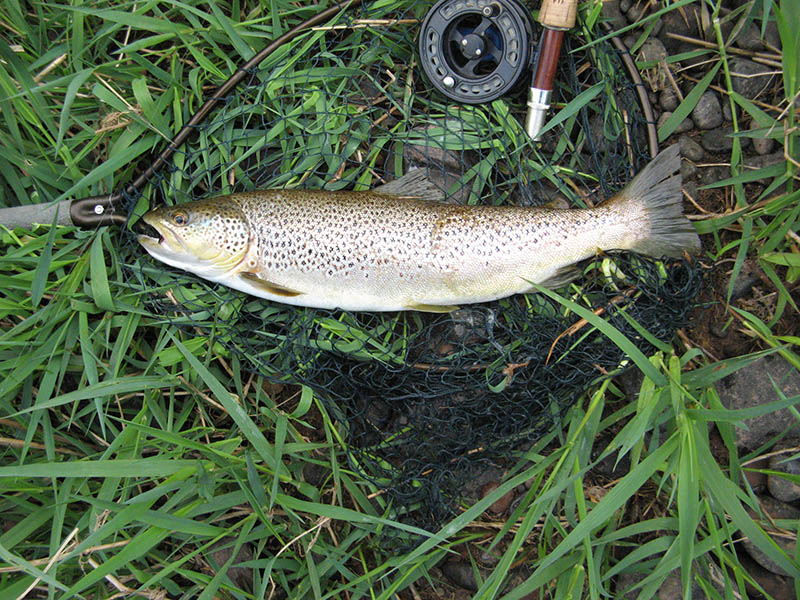 I thought I was on to something then and so it has proved. This pattern works from the start of the season, with the first LDOs, and it then catches fish right until the end of the season's olives. I recall September and October 2012, when there were very windy conditions on the Usk and Wye, but olives were still hatching and trout and grayling, whether they were rising or not, obligingly took the fly. I had fish at Ty Mawr, and others on the GPAIAC day ticket water at Builth (a breezy day with Mark Roberts). Success was had at Doldowlod when no fish were rising at all, and again at Cefnllysgwynne on the Irfon where, in October that year, the fly tempted a 1.75lbs grayling. The following year one just under 2.25lbs, and, with great success, used the UBDD ever since.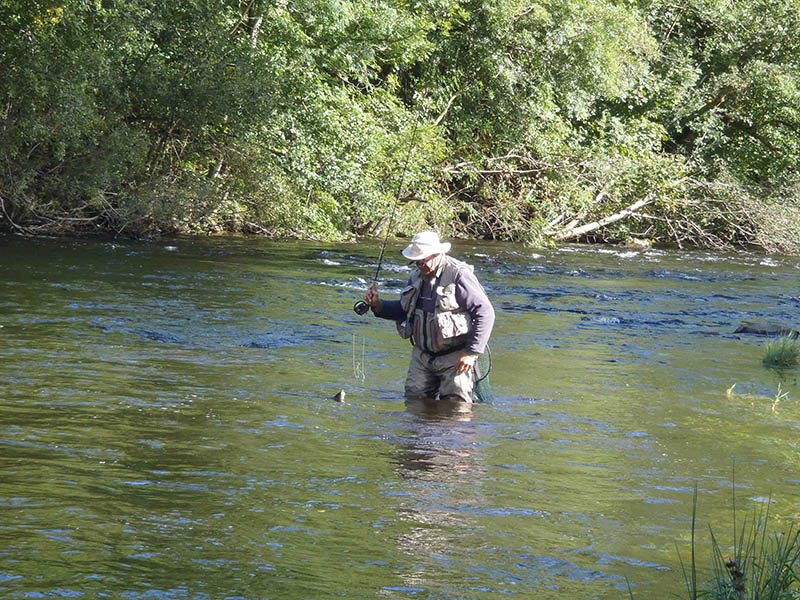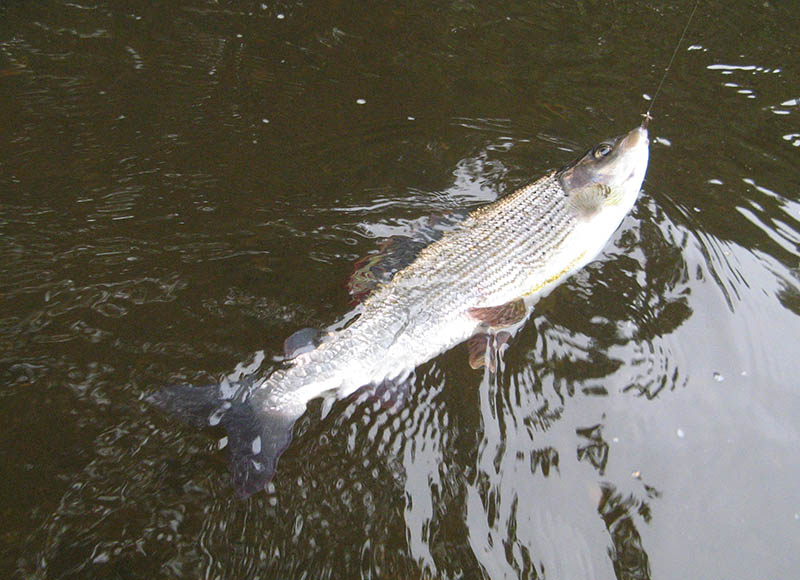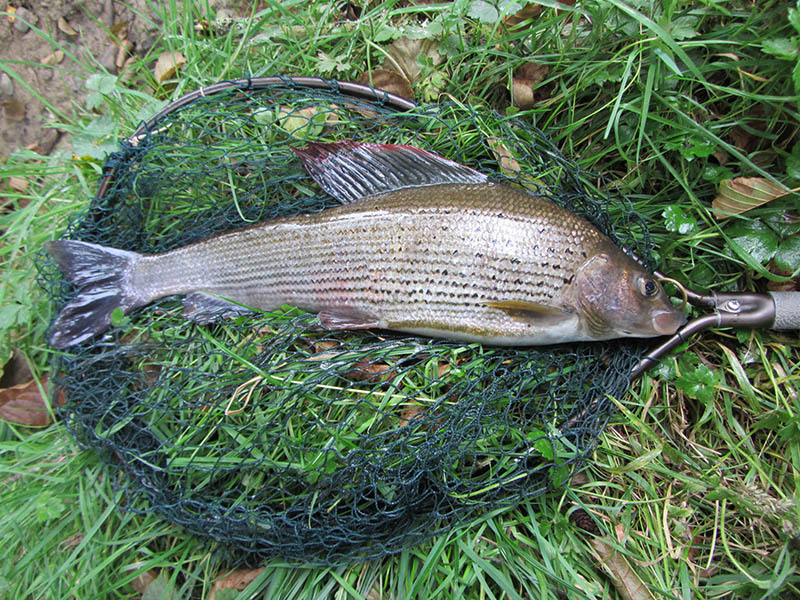 I've given UBDDs to quite a few guys who have reported it as a valuable addition to their fly box, initially including Simon Evans on the Usk (he filled his boots one epic day with lots of big fish at Llanover until one of them disappeared with his last UBDD!), fishing buddies and fellow Grayling Society members, Glyn Williams and Roger Smith, and Louis Noble who has found it to be a killer in the Dee catchment, fished both traditionally and Tenkara – Louis even considered it worthy of inclusion in a couple of his recent Trout and Salmon articles.   Give it a go!
Given its success, I quickly decided to try Ducks Dun variants for some other local up-wings and one of the first I tried was a variant, which seems to work for Large Brook Duns and March Browns.  It actually originated trying to represent some False March Browns (Ecdynurus venosus) that I caught whilst fishing on the Dore at Abbeydore, five years ago.
Over the last four years, March Browns (Rithrogena germanica) have been widely reported from mid-March to mid-April on both the Wye, from Newbridge to Bredwardine, and the Usk, from Brecon to Abergavenny, so let's hope that their resurgence continues. These two-tailed, large up-wings are easily distinguished at this time of year with their veined wings and the characteristic oval brown spot on the femurs.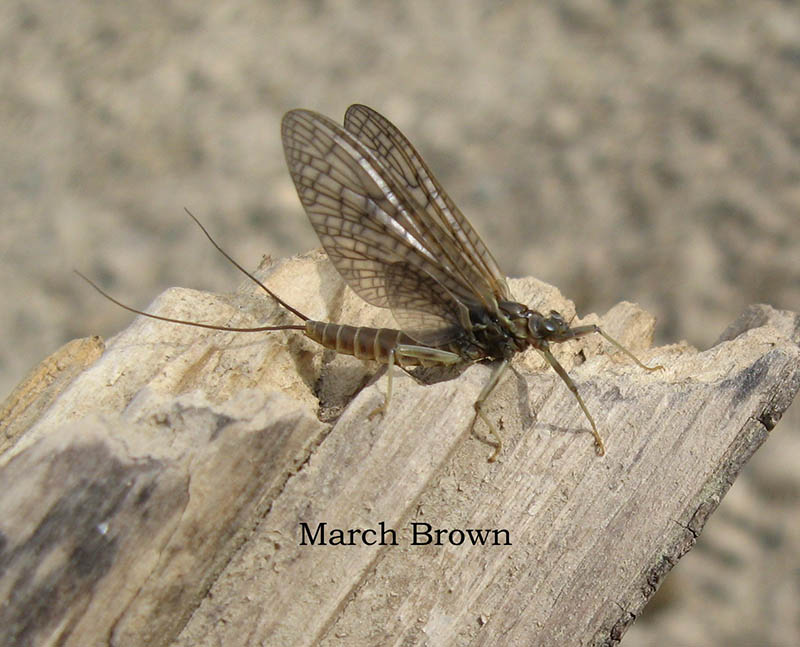 Having a good imitation to hand is essential as recurring hatches are typically so short, often lasting no more than 10-15 minutes when fish seem to appear as if from nowhere to feed on them, and then subside just as quickly!
Large Brook Duns (LBD's Ecdynurus torrentis) typically appear from late April to mid-June, and often peak in May.  Like the March Brown, they are quite large (14mm bodies), have two tails and also have veined wings, but these are somewhat blotchy and can be easily distinguished from those of the March Brown given the yellow leading edges, the lack of the oval spot on the femurs and the fact that unlike the March Brown, the abdominal markings appear to be diagonal.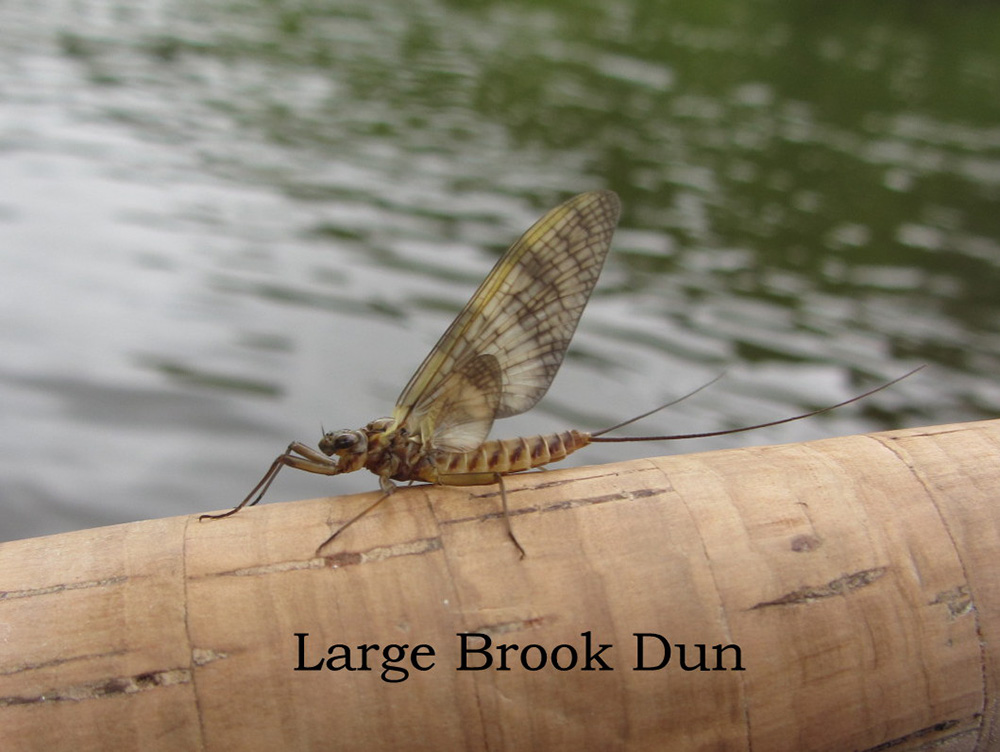 I've tied these Ducks Dun variants with either micro fibbetts or cock hackle for tails, and with CdC cocked or flat. Over the years, I've taken fish on both rivers when March Browns are around in March and then when they coincide with Grannom emergence in April, and later on both rivers during Large Brook Dun hatches.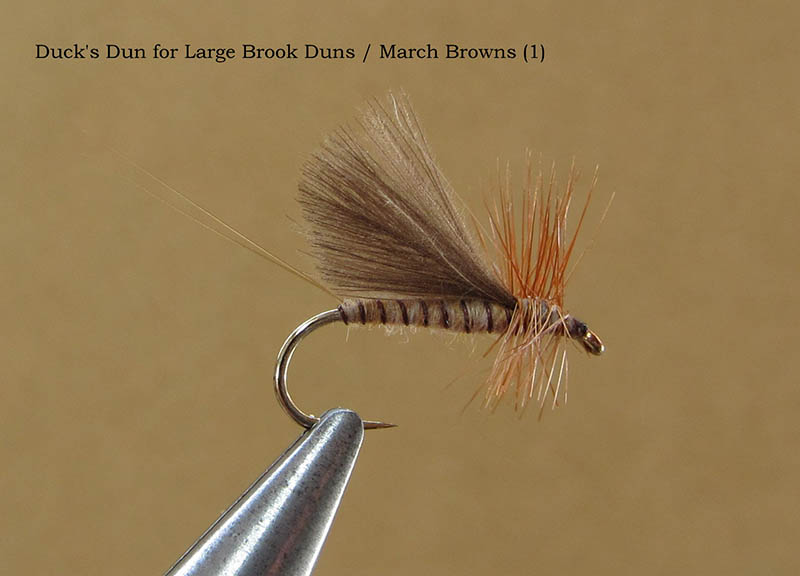 March Brown & Large Brook Dun Ducks Dun
Hook: Fulling Mill All-Purpose Lightweight Size 10-12
Thread: Uni 8/0 Tan or Sheer 14/0
Tail:  Two brown micro fibbetts or brown cock hackle fibres
Body: 1:2 mix of Superfine March Brown : Sulphur Orange
Rib: 2.5lb Maxima Chameleon
Wing: Five CdC plumes cocked or flat
Thorax hackle: Dun / brown or red game cock hackle, trimmed as above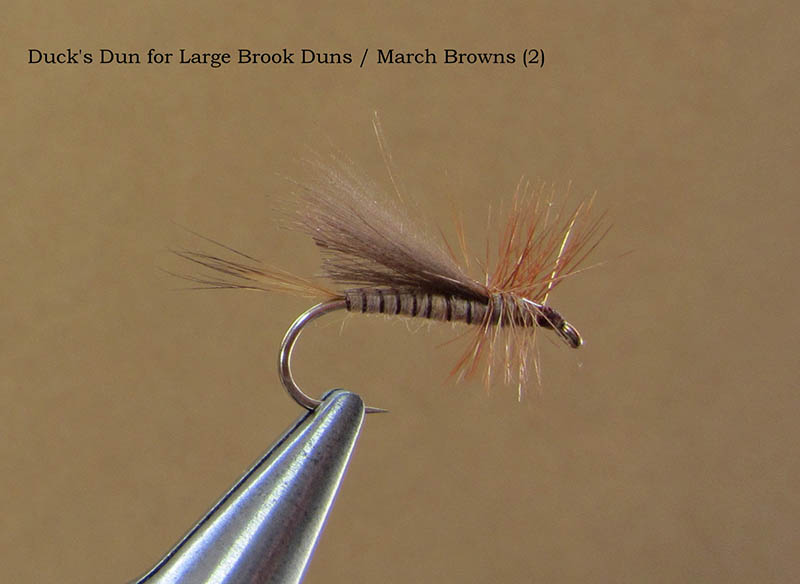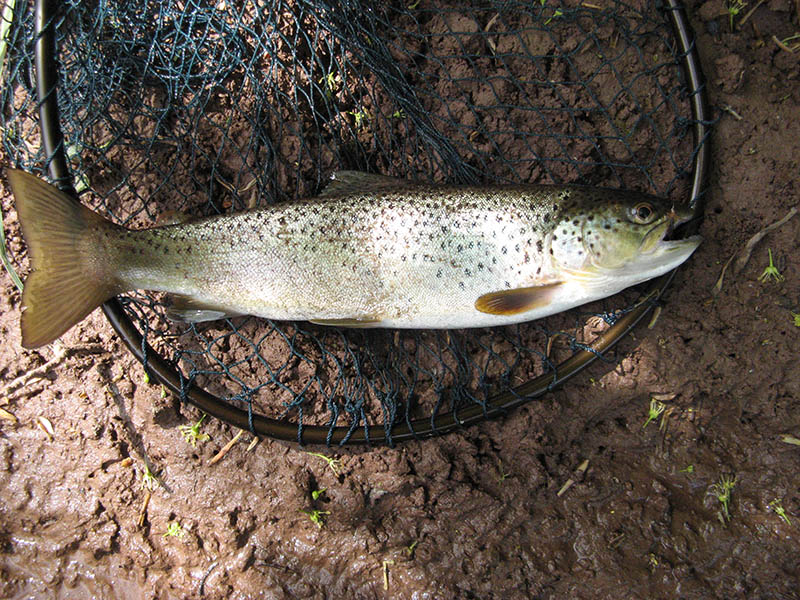 The lady who owned the beat asked me to bring a small fish for her tea so one of several others I caught that day, on this fly, was duly dispatched.
I checked its stomach contents, and amongst other insects, LBD adults were there but so were many ripe LBD nymphs more of this later.
As well as trying to tailor something to represent the above flies, around the same time I also tried to make something resembling an Olive Upright.
Olive Uprights (Rithrogena semicolorata) typically appear from late April, through May and into early June and generally peak in May, so their emergence coincides with that of LBDs, as well as that of Yellow Mays.  Their bodies are about 10-11mm. long, and they have clear wings, two tails, and marks on the femurs like March Browns. Unmistakeable!
This Ty Mawr OU sat still long enough for me to take a photograph a couple of years ago but a few years before that, I netted some on the Wye, tried to represent the body colours, and made some Ducks Duns.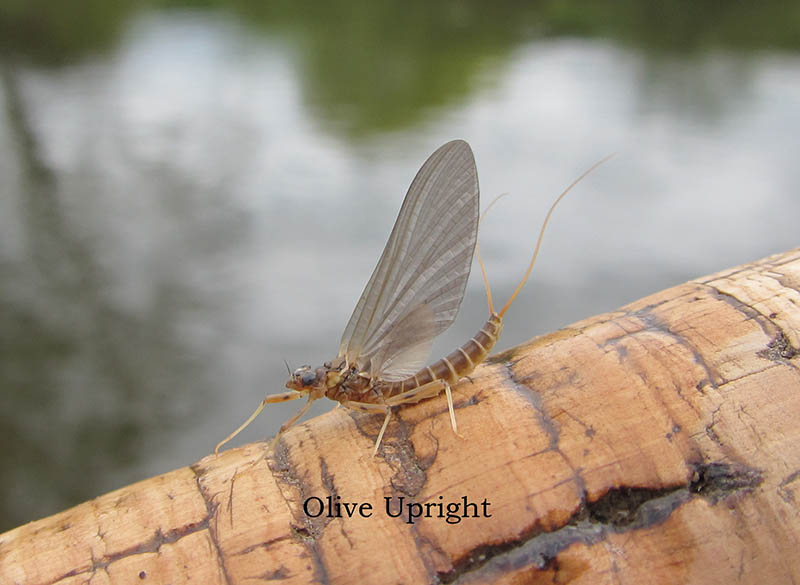 I also successfully used Bleached Ginger squirrel dubbing instead of hackle for the thorax and that worked too, but I tend to stick with the Ducks Dun now. As with the March Brown/ Large Brook Dun variants, I've tied these Ducks Dun variants with either micro fibbetts or cock hackle for tails, and with the CdC wing cocked or flat.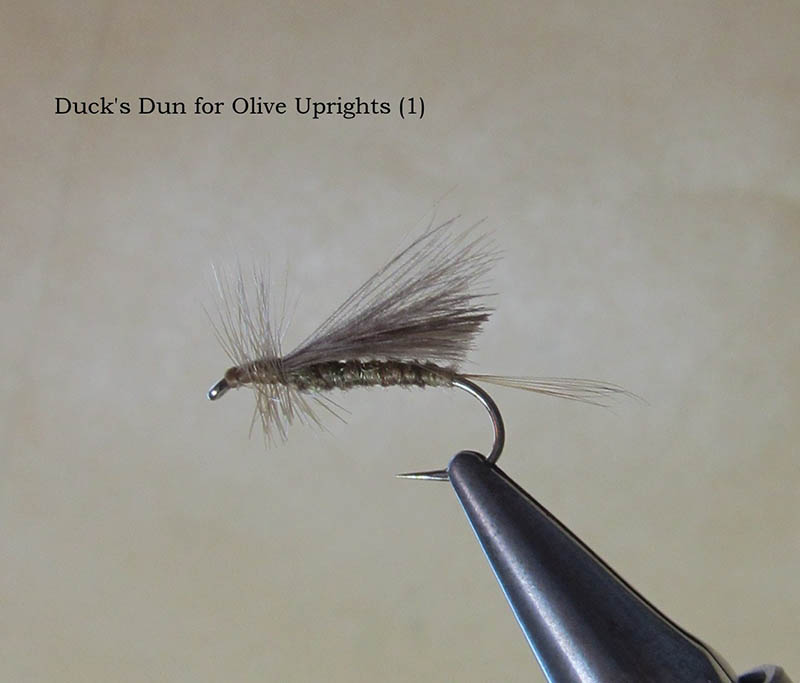 Olive Upright Ducks Dun
Hook:  Fulling Mill All-Purpose Lightweight size 12
Thread:   Bennechi Cinnamon
Rib:  As tying silk/thread
Tail: Two brown micro fibbetts or light brown red game cock approximately the length of the body
Body:  Butt: Flyrite 43 Camel
Rest of body: Flyrite 32 Rusty Olive.
Wing: Four or five CdC plumes cocked or flat
Thorax hackle:  Dark dun or, red game cock hackle, trimmed to a 'V' underneath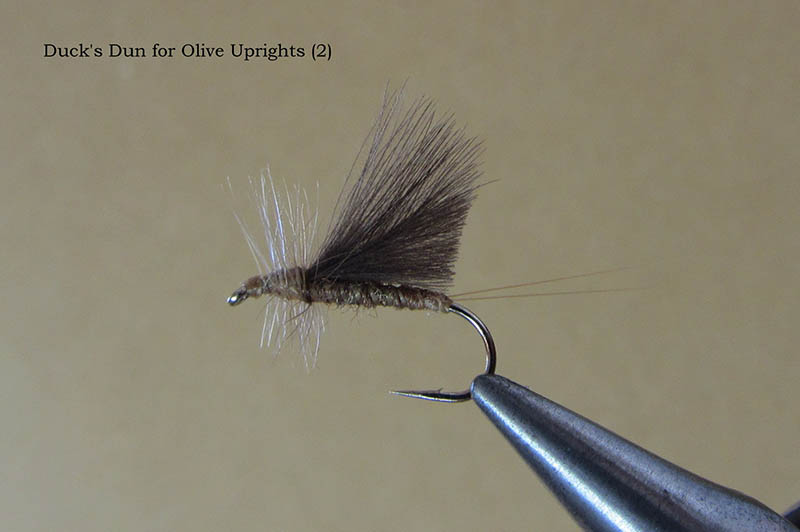 I have used this pattern very successfully on both rivers, with the 1.5 lbs fish below taken at Winforton on the Wye towards the end of a Yellow May hatch in May 2010.  The fish had studiously ignored my Yellow May emerger that had earlier caught 13 fish – it had already switched onto the Olive Uprights!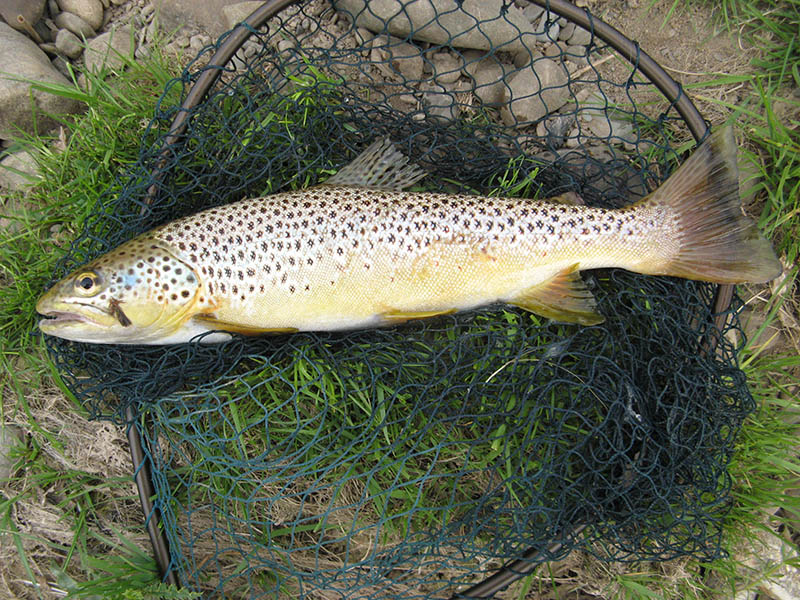 Olive Upright hatches were very significant on the Wye and the Usk, both in 2012 and particularly in 2013, and the fish below, of just under 2.5 lbs, was taken only a few miles from home on the middle Wye in May 2012.  It was head and tailing in a foam lane when the Universal Olive Ducks Dun persuaded it to raise its head once more!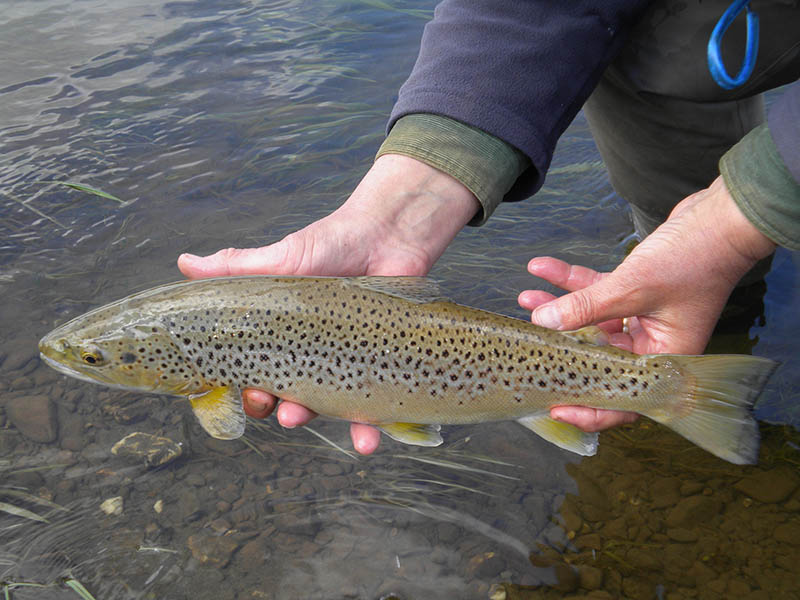 In 2013, as on the Wye, the Olive Upright hatches at Ty Mawr were prodigious with duns coming down in flotillas at times.  One day in mid-May, between 11.45 and 2 p.m., I caught 23 trout from 12oz to 2 lbs, all on the Olive Upright Ducks Dun just like a mayfly hatch on a chalk stream! Glyn Williams came along with me a couple of days later to 'catch the hatch' and used this pattern again with considerable success and, amongst other fish, caught the beauty below. Like me, he has used DD variants ever since.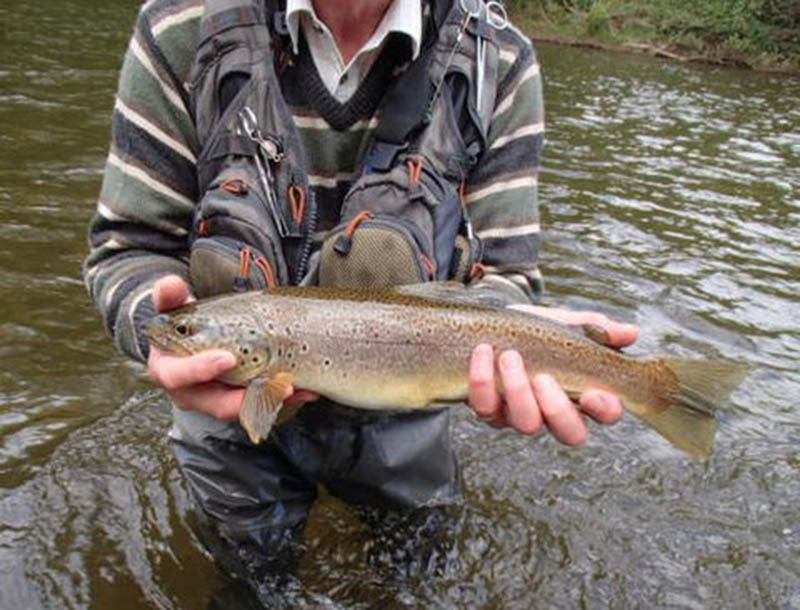 When using these and other Ducks Dun variants, I tend to use Dilly Wax on the hackle and also carefully smear some on the tails as well, but take care not to get any on the body, which I wet first.  I want the fly to sit in the film. Variants, based on the generic Duck's Dun style, take fish that are rising and will also raise fish that are not, so are also useful as prospecting patterns.
I have no doubt that they attract fish that are feeding on duns, surface-active nymphs, cripples and emergers.  The generic Ducks Dun profile and footprint as seen from below looks most enticing – the ventrally-trimmed, inverted hackle for legs, the tails for shuck or adult/nymph tails, a suitably coloured body in the film, and wings that could be taken for dun, cripple or emerger.  The greased hackle also helps to keep the fly up, even if the CdC gets temporarily waterlogged when for sure it's not a dun imitation!  I presume that the effectiveness of this style of fly, and it's attractiveness to fish, must in part be due to the variability in fishes perceptions of the life stage that it represents, and it's that which makes it so versatile. Ducks Duns should simply be regarded much like any other generic tying style alongside F flies, paraduns, Klinkhamers, shuttlecocks, Elk Hair caddis etc.
I use other variants as well – a small pattern for pale wateries and spurwings, another for small pale olives, and so on.  If you see up-winged flies that you want to imitate, just grab a few, put them in a bottle, take them home and tie a few of your own Duck's Duns – you won't regret it! the footprint and profile are deadly but, as always, size matters.
Tight lines and well done, Charles Jardine!
Editors Note
Dave Collins is a very accomplished fly fisher and has designed a number of other very successful patterns to catch both brown trout and grayling. It is fortunate that he is a member of the society as he has a willingness to pass on all his knowledge for the benefit of all anglers.
I am sure you will agree that it is a very useful article.
Videos on how to tie these flies will be added to the collection of instructional videos in the near future.