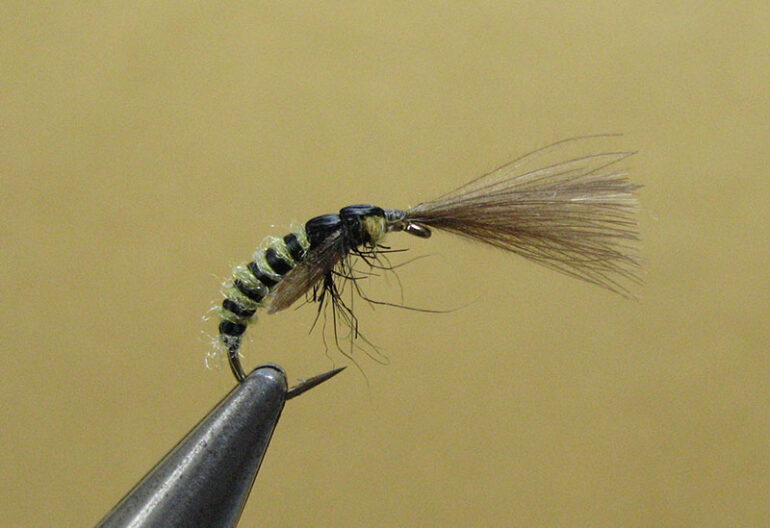 Grannom Pupa Emerger
Dave Collins – 2010
Most of you lucky folk who fish the Gwent Angling Society waters on the Usk will have fished a big Grannom (Brachycentrus subnubilis) hatch for much longer than I – I have only fished the Usk for the last ten years or so, and usually further up the river, where Grannom hatches, at least where I fish, seem to be much smaller.  Having returned to fly fishing on a regular basis about twelve years ago, my first experience of Grannom was on the Wiltshire Avon.
At that time I wasn't tying flies but was struck by the sheer size of the hatch and the tendency for the morning emergence of Grannom to be triggered by the appearance of the sun, and the relative absence of wind.  As the clouds passed over, it almost seemed as if someone was turning a switch on and off, but how to catch fish feeding on them?
When retirement at last provided more time for fly-fishing and fly-tying, the anticipation of not-too-distant qualification for the bus-pass, allowed us to move from the over-populated South East to rural tranquillity in West Herefordshire where my local water is. The Red Lion Moccas Fishery on the Middle Wye at Bredwardine, a Mecca, for barbel anglers in the coarse fishing season.  Whilst not having anywhere near the same trout and grayling populations as the upper river, it nonetheless has enough trout, grayling,  and chub to provide me with some fly-fishing and the opportunity to experiment, right on my own doorstep!  Here, in the heat of April 2007,  Grannom were emerging in the still morning sunshine, with Large Dark Olives appearing a little later, fish were rising and a few were caught on a low-riding Klinkhamer.  Most frustrating was the frequency with which this and others were ignored.  My curiosity got the better of me and I decided to see what the fish had been feeding on.  I had never seen Grannom pupae before and these fish were stacked full of them to the exclusion of just about anything else.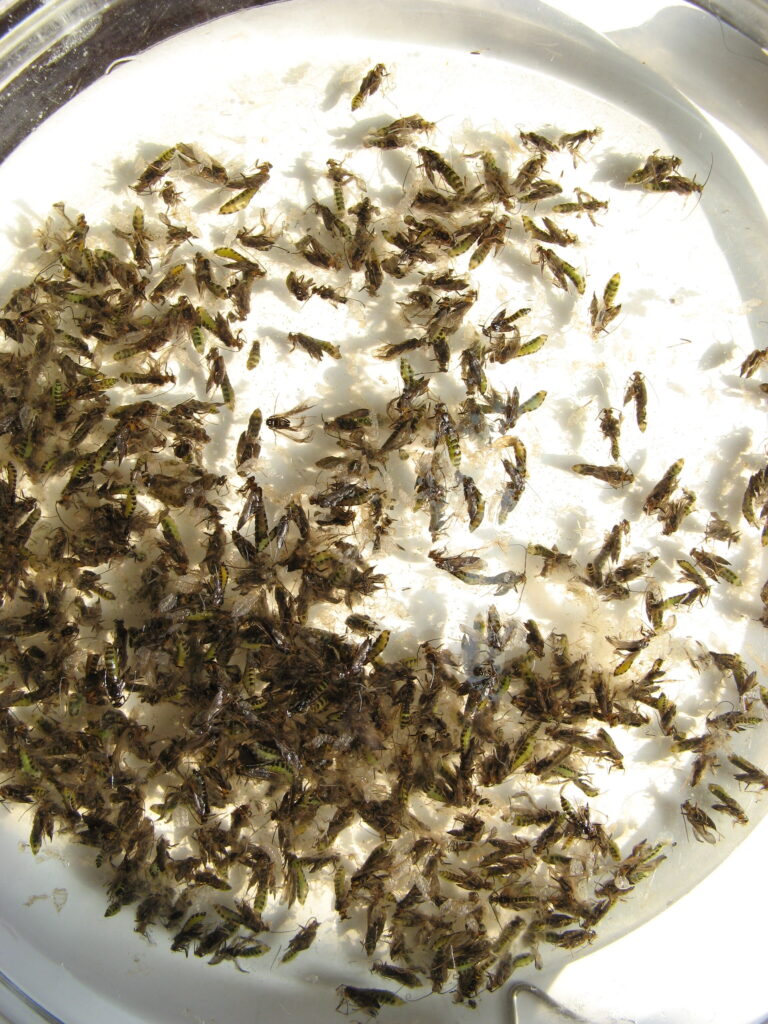 My fly box contained nothing that looked remotely like this beautiful 9mm. pupae, with their green abdomens, black-segmented on the dorsal and ventral sides and a hint of amber in the thorax, with their typical downward-sloping pupal wings or the slightly more inflated ones of the incipient emerger, and a tangle of legs and antennae.  I could find no patterns in my information sources to resemble them since traditional Grannom patterns often tend to be which represent the adult female returning to lay her eggs, and so it was a case of DIY! I made two types of fly, a shuttlecock and a parachute pattern, to represent the emerging pupa and tried them the next day. Sure enough, emerging Grannom pupae were still being eaten and, more in hope than expectation, I tried the shuttlecock and to my delight, on only the second pass, it was taken.
More trout and grayling were taken with it and with the Grannom-pupa parachute emerger over the next couple of days, and also later down the Avon. However, the Grannom season was rapidly drawing to a close and, as it turned out,  so was our "summer" and I would need to wait until 2008 to test these patterns further.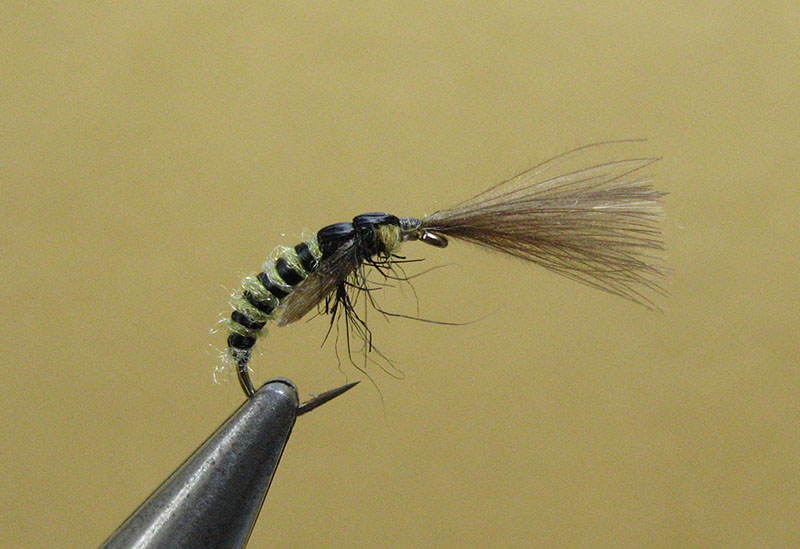 Over that winter, with more time for thought, I produced the patterns which I have successfully used since A size 14 Kamesan B100 was spot on for size and, for the abdomen, wet SLF Masterclass 14 watery olive provided a good match and this I ribbed with black thread.  For the CDC shuttlecock version, I used dried CDC tips pre-treated with thin varnish to mimic the pupal wings, black raffene for the back of the thorax, and put in a little amber dubbing at the thorax together with some black dubbing picked out as legs.  I also made another shuttlecock version, which is a bit more fiddly to tie, using raffene for the back and a green thread matching the abdomen to segment it.
The black-hackled parachute emerger has no pupal wing cases. I thought too that a 'Cul de Grannom' variation on Gwilym Hughes Cul de Canon should dangle nicely and may be worth trying and so, with some deer's hair and CDC, made some of those as well – the body for this pattern is the same as the parachute emerger.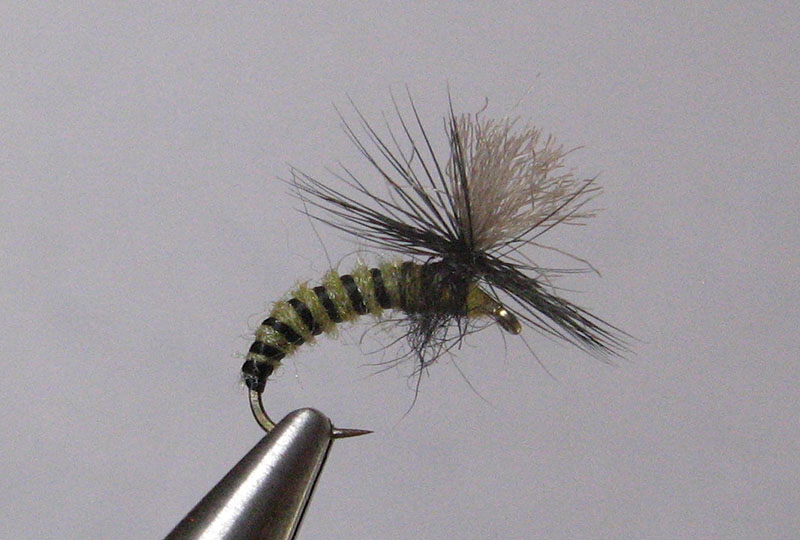 Last winter I also made some F-flies, which should sit higher in the surface film and also might resemble dead females lying on the surface after egg-laying, and tried them out during the 2010 hatch.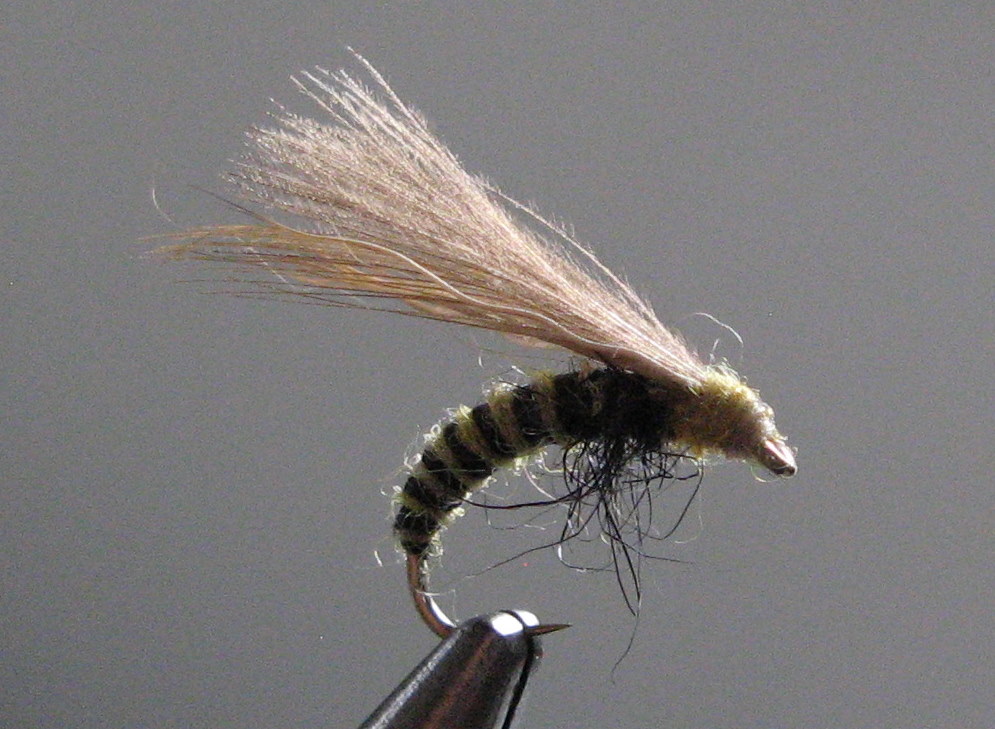 By early April 2008, the middle Wye was once more fishable with fly about, including Grannom and LDOs, and with fish rising.  Were my rehashed emergers going to work? As usual, the hatch of Grannom fluctuated with the wind and sunshine but, when the Grannom were emerging, all of the emerger patterns caught trout and grayling and the trout of the Usk responded similarly. Later that month, again on my local water, my attention had been drawn to some delicate sips, followed occasionally by large swirls, as several large fish were feeding in slacker water at the edge of a large eddy alongside the main current. A fly that would be visible at distance was needed, and so I put on the shuttlecock emerger.  The crosscurrents in the eddy dragged the first few casts right out of line but, with a few more loops thrown in, the emerger was gently sipped and, on tightening, a large boil was followed by a steady, deep-boring run. A few minutes later, the first of two chub of around three pounds was landed and safely returned.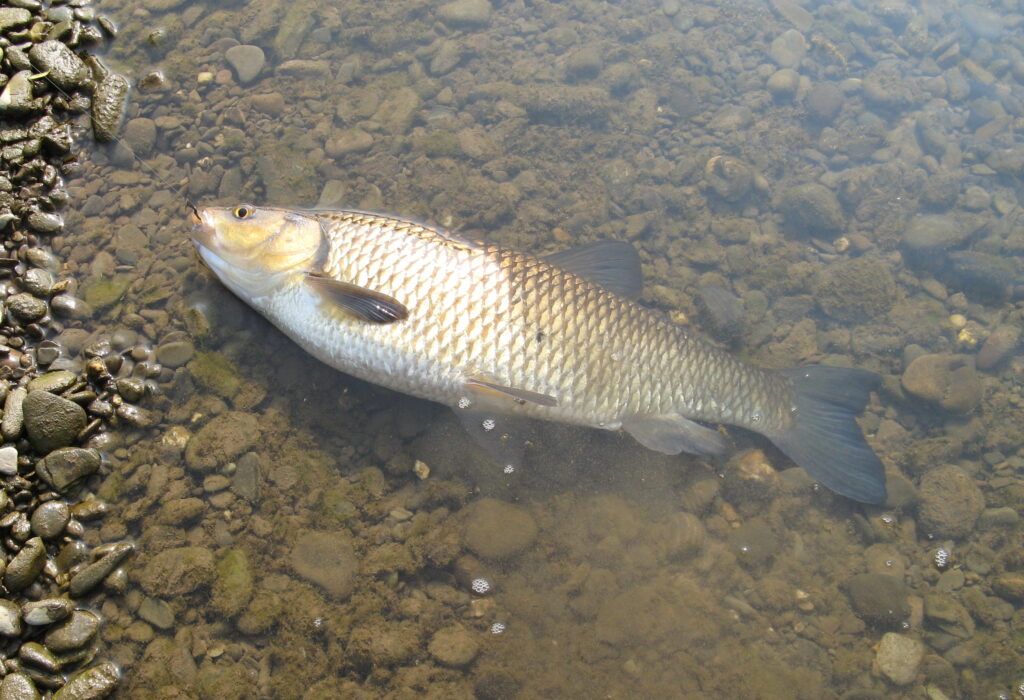 This April, just upstream of this eddy and in slack-ish water on the edge of the main flow I caught a chub of just under six pounds together with several of four to five pounds on the Cul de Canon and F-fly. They had refused the shuttlecock and parachute versions and seemed to want something with a bit more wing on it.
Back in April 2008, I also wondered what the Avon trout might think of these new patterns that had worked so well on the Wye and Usk – after all, it was here where I had first seen Grannom.  The riverkeeper confirmed that they had just seen one of the biggest Grannom hatches for years on the Avon, so I set off to sample it for a couple of days.  On the first day, in the sunshine between the showers, large numbers of Grannom were coming off in the morning, followed by what seemed, even more, returning in a veritable blizzard in the afternoon.  Upon returning home, a little revision from Taff Price Tying and Fishing The Sedge reminded me that, after emerging from the water and subsequent copulation, the female eggs mature over a day or so until she returns to the water to extrude the dark green egg sac to begin the annual life-cycle once more.  So to fish pupa emerger patterns most successfully, early starts are best,  these coinciding with the time when the pupa is hatching and not later when those blizzards of Grannom are drifting up-river. Those Grannom are almost certainly, and predominantly, returning egg-laying females.  On that day on the Avon, creases in parts of the river were littered with a huge slick of pupal shucks, and this year on the Usk at Ty Mawr in that amazing April hatch, creases in the water were covered in them by midday.
On the first day of that 2008 Avon trip, the shuttlecock and parachute emerger proved to be the more successful patterns during the morning as the days Grannom emerged.  The next day started in almost unabated sunshine, and consumption of the trouts version of my earlier bacon and eggs was well underway at 9 a.m and brunch continued to be served throughout the morning – emerging Grannom were everywhere.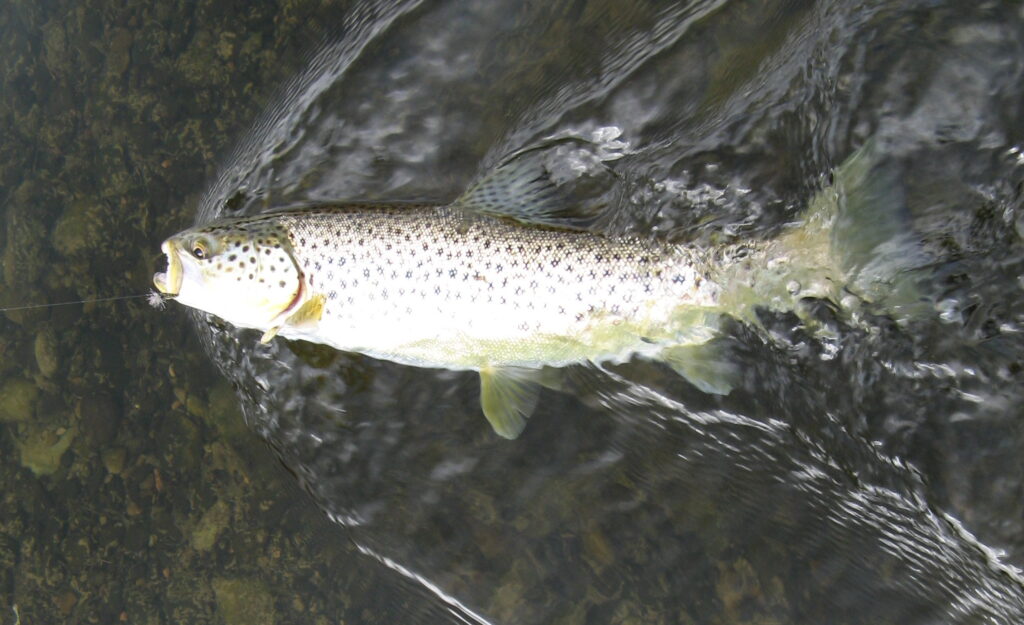 The section of water that I fished has a good wild trout population and several of its fin-perfect residents also approved of the shuttlecock and parachute emerger, with a few fish of up to one and a half pounds being taken.  Intermittently, in and out of the main flow on the edge of a large area of slack water, I also noted a larger fish quietly rising.  A chub like the previous week on the Wye or a larger trout?
After several abortive casts, the fish gently sipped the shuttlecock and judging by the chub-like steady pull into the depths, this was surely going to be one of those large slabs of bronze that grace this area in the warmth of the summer.  Several minutes later with the fish at the surface, to my delight and complete surprise, it proved to be a beautiful three and a quarter-pound wild trout which was safely returned.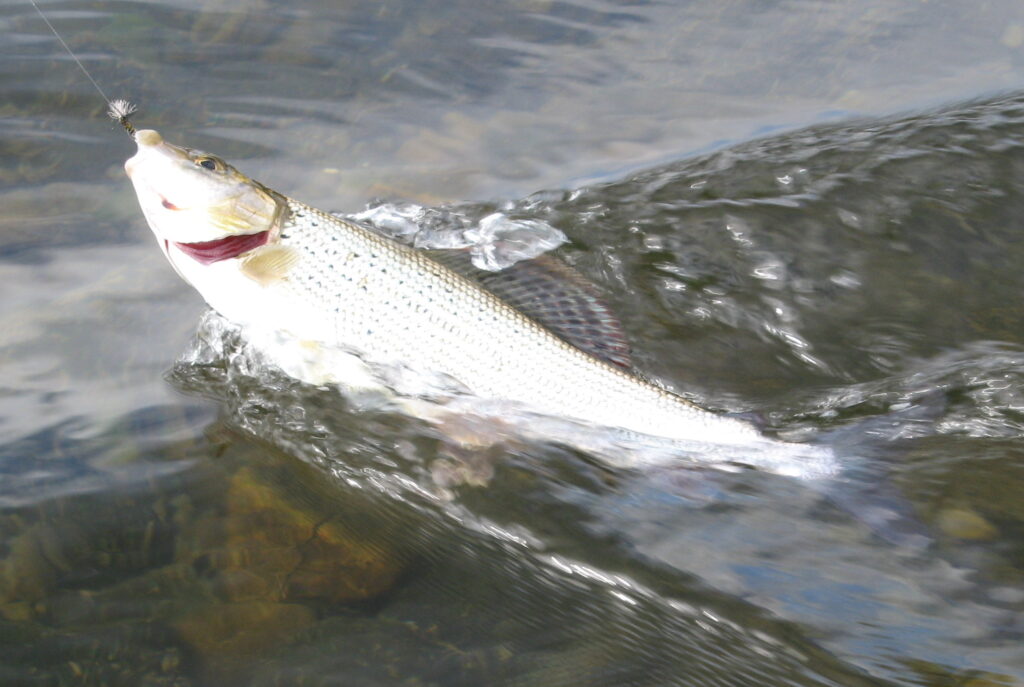 In the May 2008 edition of Fly Fishing and Fly Tying, Moc Morgan had asked if anyone had succeeded in getting a dry fly pattern that worked effectively during a big Grannom hatch  Well, I guess that these aren't strictly dry fly patterns but, as flies providing a passable representation of the emerging pupa at that most perilous stage of the sedges ephemeral life, I have found since 2007 that these Grannom-pupa emergers really do the business.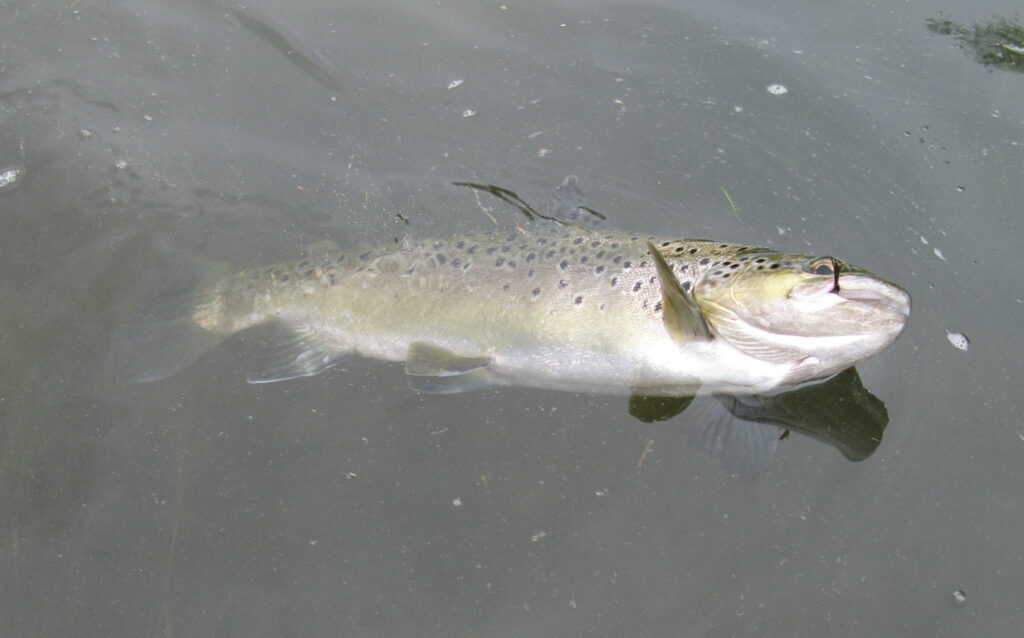 Since I published them in FF and FT in 2009, and Louis Noble kindly gave them an airing again in his excellent Grannom article in Trout and Salmon in March this year, I know of several anglers who have tried them with great success and I can assure you that no one is more pleased than me! They will be in my box again for the Grannom of 2011.  I know that Louis and Mark have been developing their own variants on the shuttlecock during this years Grannom season and I'm sure that, if you ask nicely, all will be revealed – every man has his price!
Tying Details
Shuttlecock
Hook: Size 14 Kamasan B100
Thread: Uni 8/0 Tan
Rib: Uni Big Fly Black
Body: Masterclass 14 Gammarus Watery Olive
Thorax: Superfine Amber
Thorax back: Black Raffene
Wing buds: Natural grey CDC tips pre-treated with well-thinned varnish or Floo Gloo (then allowed to dry) to stop it floating
Legs: Fine black dubbing picked out
Wing: Natural grey CDC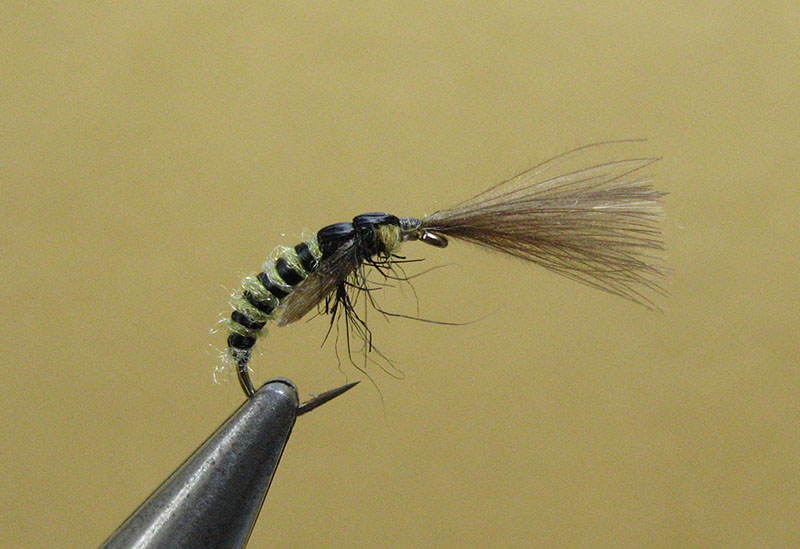 Parachute Emerger
Body as for the shuttlecock but without wing buds and thorax back; legs optional
Wing post; Medium dun floating yarn or something more visible if required
Hackle: Black
Cul de Grannom
Body as for the parachute pattern
Wing tied with natural grey CDC with deer hair underneath.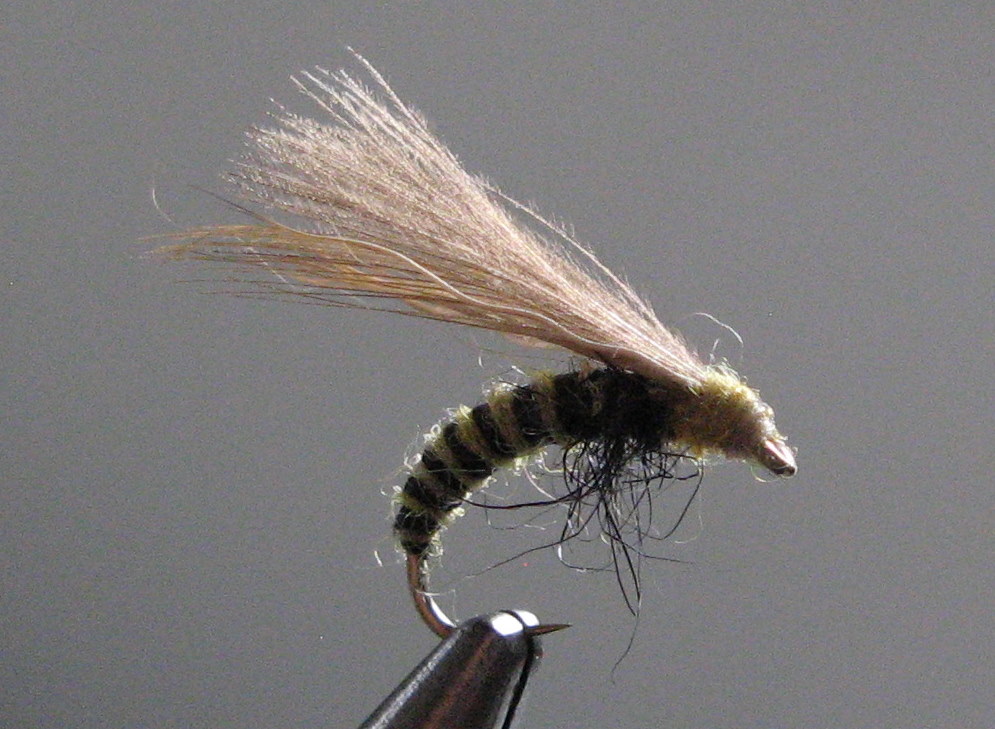 For those who do not tie their own flies, the parachute and shuttlecock emergers are in the 2012 Fulling Mill catalogue and are on sale via Hartley Fly under Fulling Mill New Range