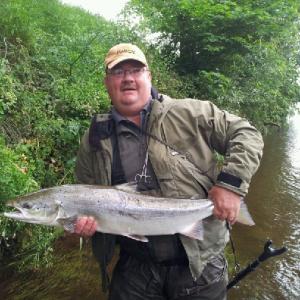 Salmon Fishing in Realtime
I was able, last year, to video a salmon fishing session on our waters at Ty Mawr.
What I attempted to do was to explain in detail my approach and what I was trying to achieve when fishing and the attached video is the result.
I find it ironic that on the day of filming I didn't touch a fish although I was fishing with confidence. I subsequently went the following day, and Lucky enough. Justin Connerly had joined me and was able to film the fish being played and a final photo of it before it was released.
We estimated the fish at over 17 lbs.
It is worth noting that the fish was not lifted out of the water other than for the photo which took less than three seconds and I would ask you to consider how you handle the fish if you intend to return it.
I hope you enjoy the clip and find it useful.