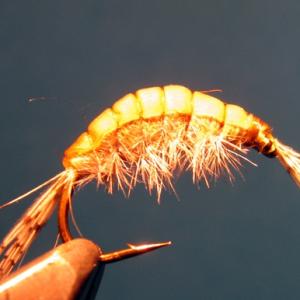 Pot Weave Shrimp
A video showing how to complete this fly using the 'Pot Weave'
I was asked by one of the forum members from the UK Fly Forum to put this video together so that they could perfect the Pot Weave.
I have tied this pattern that I use for grayling in the main but it also works for trout to show the technique.
Materials required are as follows:
Hook: Grub hook to suit. In this case, I have used a Partridge Grub hook size 8
Silk: 70 denier white uni nylon
Underbody: Square lead wire.
Body: Embroidery silk yarn in olive
Legs: Grey dyed Ostrich herl
Rib: Monofilament line
Shell Back: Nymph skin coloured with a Pantone pen
'Fishin' Glue or super glue.