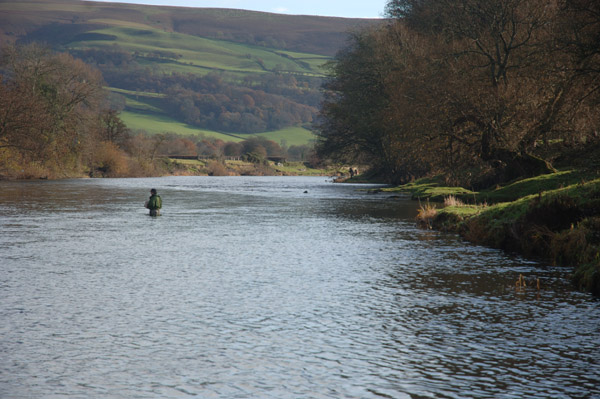 A November Day on the River Wye
A number of you think that I am a little crazy and some of you know that I am a little crazy but I just wanted to find out how many of you were of the same mind.
A thought stirred in my head and I came up with the plan.
I believed that if you wanted to fish in the dead of winter you would have to be a little mad so I decided to find out how many would follow me into an icy cold river in late November.
Well, you did me proud as 22  mad hatters joined me at Builth Wells on a lovely stretch of the River Wye. Following a week of heavy rains, we were fortunate in that the river had dropped to a great fishing height and more importantly was clear.
The weather forecast was that gales and more rain were on the way and with legs crossed, we went for Sunday 19th November 2006 meeting on the outskirts of Builth Wells.
Through the contacts of Alun Parfitt our fine treasurer we were able to secure both banks of the river for over a mile of water and additional beats should we need it.
With this in mind, we invited all members to put in for the day with an initial invite for 15. This was soon adjusted as the response was fantastic.
The invite was extended to friends and more importantly the youngsters who may come and start to get involved either with the fly or traditional long trotting with maggots.
Dave Cox and his son Daniel got in touch and Daniel had his Dad buying all the right gear through the next few weeks leading up to the big day.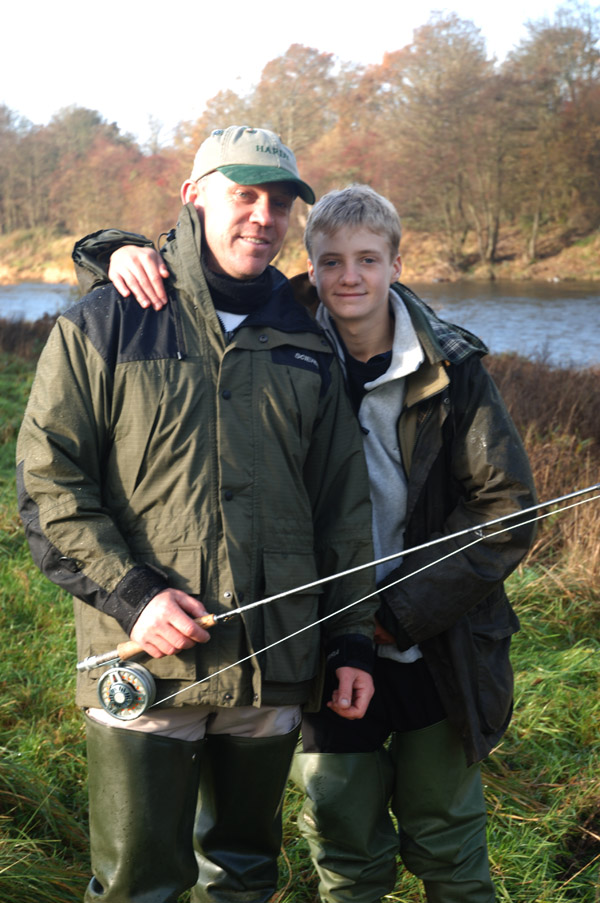 Although Daniel started the day in fine spirits he became ill and Dad had to take him home but his request that he wanted to come again was great news and Daniel I can promise, you will always be welcome.
Everyone arrived safely and avoided the slippery ice on the roads.
Monies were collected and the fee's paid and on the river we were ready to go at 10 am.
Tom Richards started the day-long trotting and all of a sudden there was a gang of fly casters immediately below him. Were they Purists or were they taking advantage of the constant feeding? I wonder?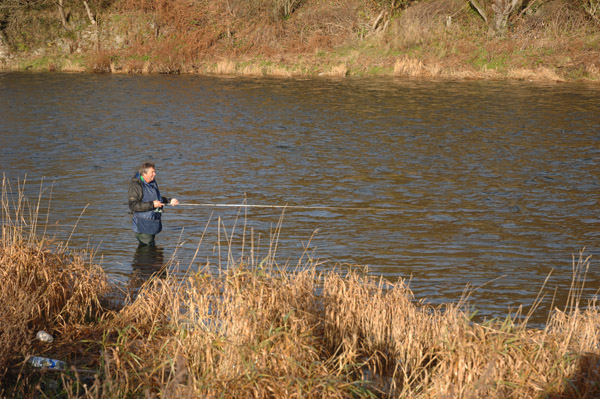 I started the day off by explaining to those who had never done any Czech nymphing the basics of how to fish this method. Once the proper leader set up was made and the appropriate flies attached into the water went everyone.
Standing waist-deep in the water soon reminded some that they hadn't yet fixed that summer leak just below the knee.
All-day I could be heard bellowing encouragement and often giving firm advice to "shorten the line"
I am sure that it is a confidence thing that when people start to Czech nymph they want to cast a long line.
The rule is no more than a foot or two of line out from the rod tip. This way you will maintain contact and control of the flies and get them down deep quickly.
Stewart Pyle was fishing hard all day as we all were and regular breaks had to be taken from the cold waters.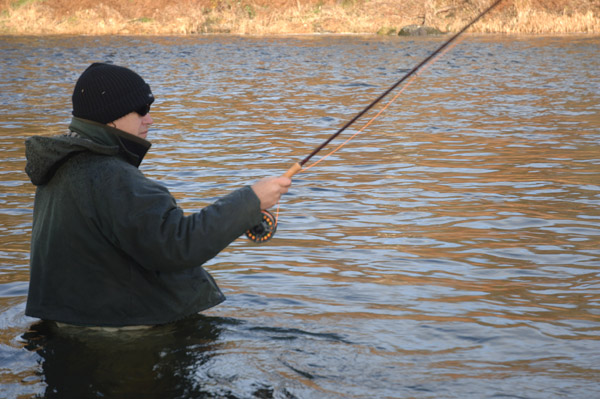 This is where I spotted the first sign of madness in Huw Bassett and Ian Caple. Such committed and persistent anglers in that they would not get out of the water. I did notice however that Huw wouldn't move from the spot he started at only to find out later that he was on a shoal of fish and had hooked and lost two in his first 3 casts.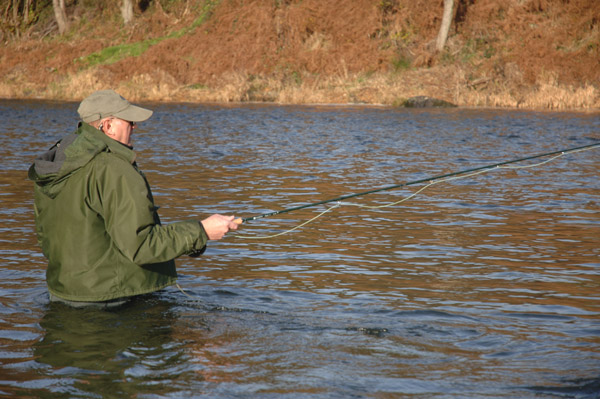 Huw eventually landed his first fish only to find that it was a trout in great condition.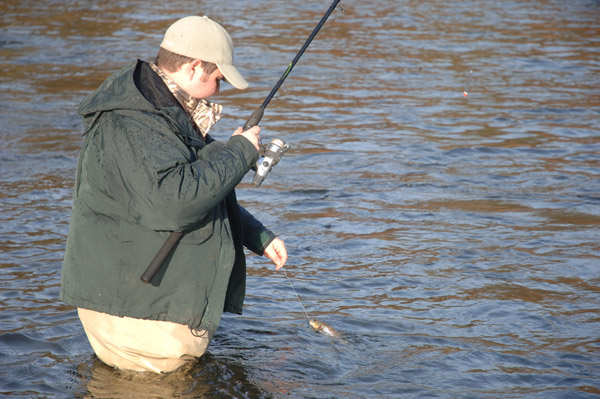 It is a shame he cheated by changing his fly rod for the trotting outfit. Huw how will you ever live it down.
Another father and son team that joined us was Richard and his son Oliver. It was great to see the two having fun and with dad passing on his knowledge of the game of long trotting. What he didn't tell Oliver was that Alan Parfitt had just told him what to do. Dads what are we like.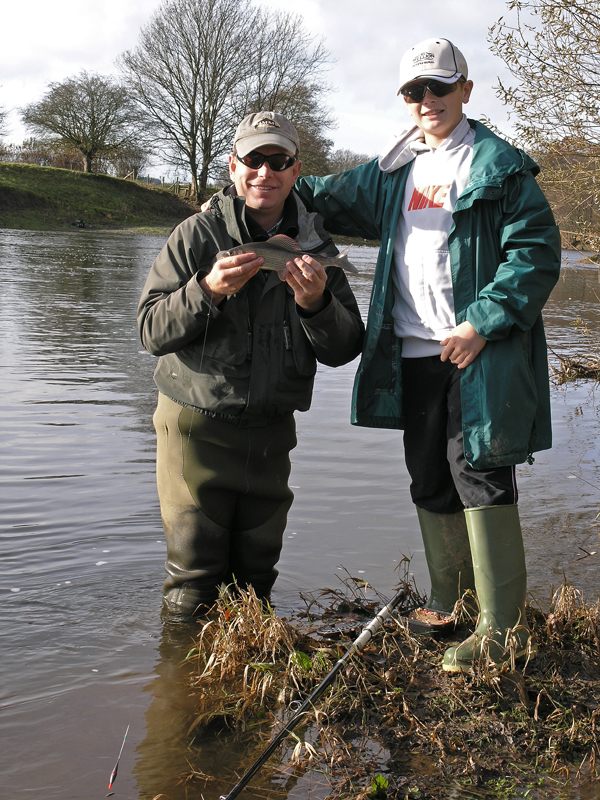 Richard showed Oliver how to do it and Oliver gladly took up the challenge and showed his pop that you need to catch proper fish to call yourself a real fisherman.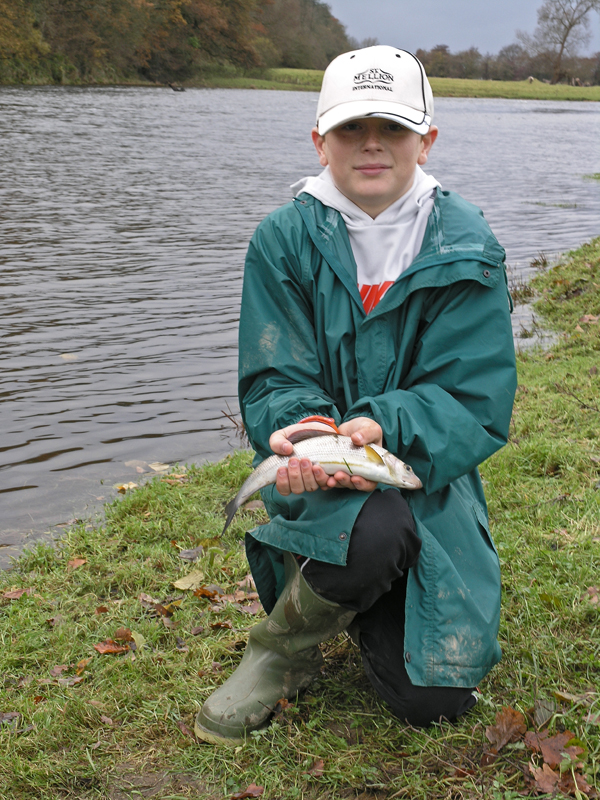 The picture above is of Oliver with his first ever grayling. This for me this is what the whole day was about in helping, advising and coaching those who had never enjoyed the delights of catching these most beautiful and hard fighting of fish.
There were many others who through the day caught their first grayling that day.
John Davies had a great day with four landed but he will always prize this first grayling on the fly.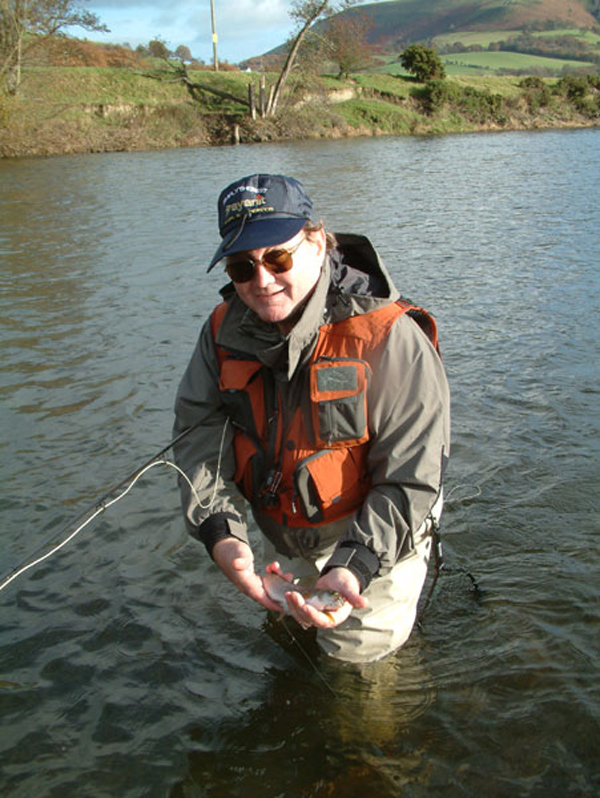 Tony Morgan who always enjoys his fishing struggled initially but I have to say he made my day after I spent a few minutes with him when having changed his flies and leader set up he did exactly as he was told and in minutes caught and landed his first grayling. I just wish I had the camera with me then because his face was a picture of pure delight.
Julian Cruickshank also caught his first fly caught grayling and Malcolm Parry used his ammonite variant nymph tied at the tying class the Monday before to land the first fish of the day.
All the beats were filled with our members as their confidence grew and they started to discover where the fish lay in the seams.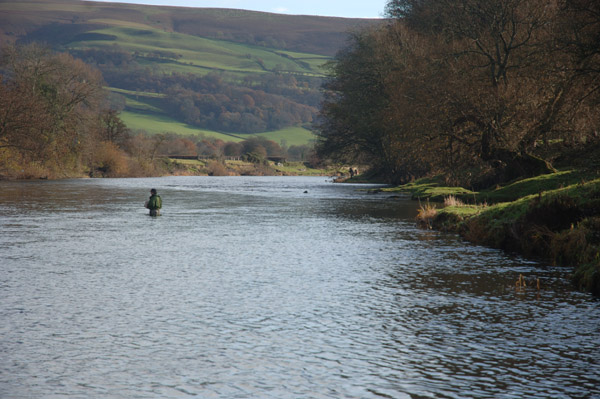 The weather held all day with an occasional burst of icy cold rain but we did not complain. It was good to be out in the fresh air and enjoy a good lunch with like-minded friends.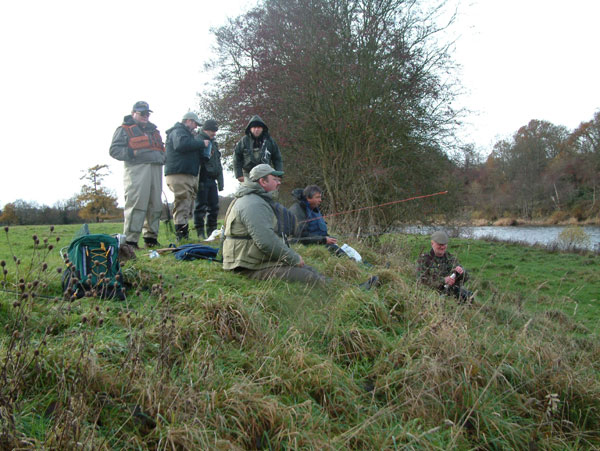 Some fished harder than others fishing with old injuries and sore ribs. One was Kevin Jones who suffered all day with an ache in his ribs only to find out later that he hadn't pulled a muscle but had pleurisy. I knew there was at one with us that day that was crazier than I. No excuse to miss the fly tying class though!!!!!!!!!!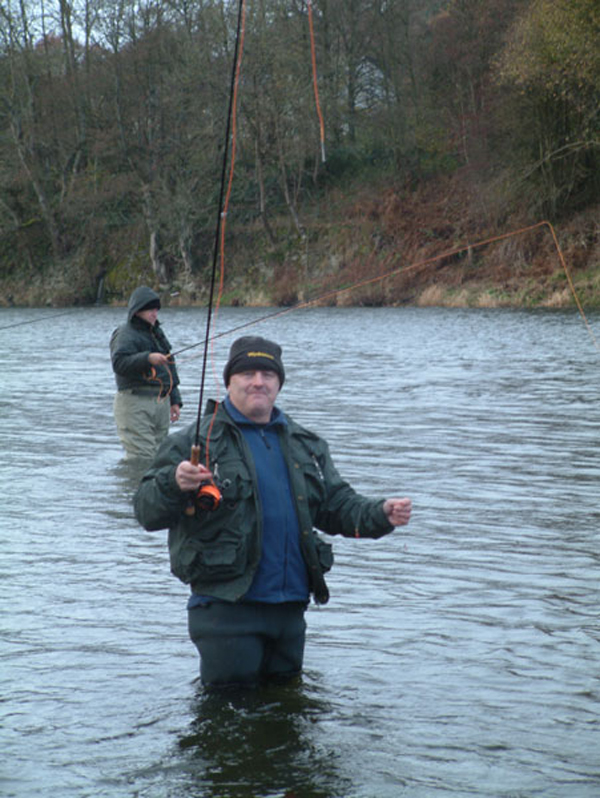 Parf stayed on the far bank looking after everyone there showing them the runs and holes where they would find fish. Catching them, however, may prove more difficult than first thought.
Everyone caught fish during the day and I believe enjoyed being out in the cold November air.
We saw Kingfishers and other wildlife. Salmon waved with their fins and trout took the occasional dry fly off the top. Some were lucky enough to land the intended prize of a great fish.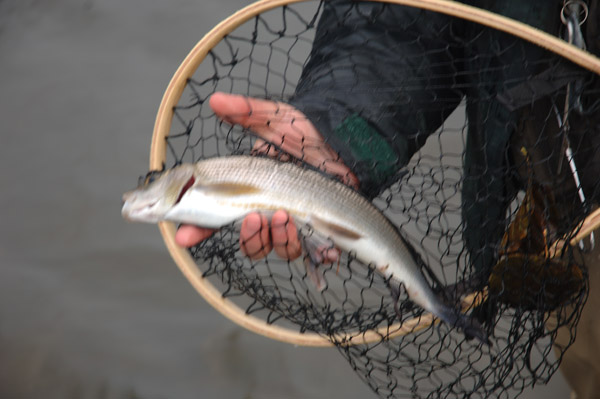 We hope to run a similar day next year if there is the interest.
If you want to learn more about Czech nymphing and other grayling methods all you have to do is ask the question on the forum and you will get your answer. There is already a thread running on Czech nymphing.
We have really talented anglers with years of knowledge that are registered to our website. These people are willing to pass on their hard-earned knowledge for the improvement of your fishing so do not hang back ask them.
There is no such thing as a stupid question.
Tight Lines.