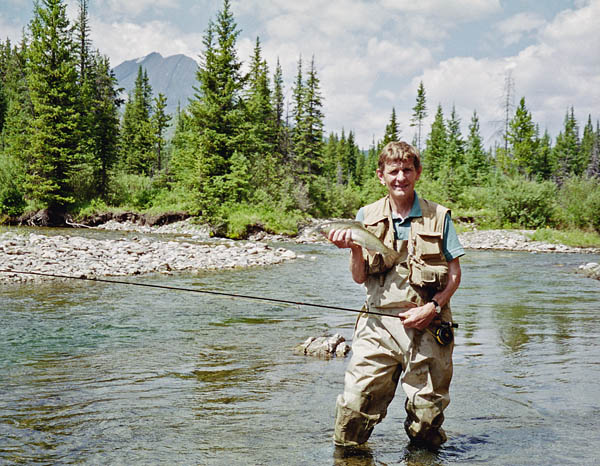 A Trout Fly Fisher's Dream
Highway to Paradise – Alberta's Forestry Trunk Road
As big as Montana and Wyoming are combined the Canadian province of Alberta can only be classified as huge. A large proportion of its vastness is covered with the remote inaccessible northern boreal forests while farther south prairies and parklands make up most of the rest. A consequence of this topography is that nearly all the fish of traditional interest to fly fishermen are confined to a narrow strip in its south-west which makes up the
Albertan section of the Rocky Mountains
The Rockies stretch for thousands of miles as a long spine down the west of the whole continent and running more or less down through the middle of this range is the continental divide. The divide is aptly named because it is both the apex and continent mountains where rainwater can drain either west to the Pacific or east to the Atlantic/arctic oceans.
In places, the divide is so narrow and clearly defined that it is possible to stand with one foot on the Pacific watershed and the other in that of the Atlantic. The divide also serves as the border between Alberta and British Columbia and since Alberta only includes the eastern side of the mountains most of its trout streams flow in an easterly direction and are widely known as the eastern slopes streams.
Originating in the snow and Glaciers among high peaks at heights of up to 12,000 ft the infant streams plunge down through the foothills, to eventually amalgamate into the huge rivers which relentlessly cross the prairies and forest on their long journeys to the Arctic Ocean and Hudson's bay.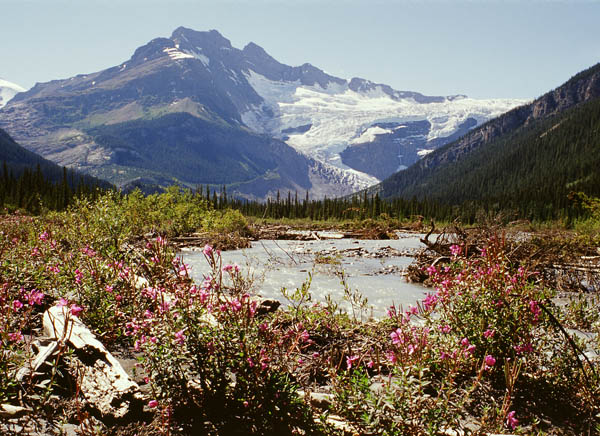 The transition from mountain to prairie may only last 50 to 100km. but in this comparatively short distance, the streams transform from ice-cold raging torrents to more gentle flowing winding waterways with which we are familiar in the U.K. Flowing eastwards means the Albertan rivers contain no migratory salmonids to distract you.
This may only be trout country but is more than compensated by the number of different types which may be caught. Not all of them will be found in the same location but the species available in Albertan rivers include Rainbow, Cutthroat, Brown, Brook, Golden, and bull trout. Arctic grayling exist in the north while Rocky Mountain Whitefish or "Rockies" are found everywhere.  Add to these a cross between Cutthroat and Rainbow trout to produce 'Cuttbows' and there is enough variety for anyone. There is even a toothy roach like sporting fish called the Goldeneye which respond very well to the fly in the lower reaches of the major rivers.
The Rocky mountains might only make up a small proportion of Alberta's landmass but such is the size of this province but they give birth to more rivers and provide more fly fishing opportunities than the most dedicated angler could explore in several lifetimes.
In different circumstances, most of this wild, remote but spectacular landscape would be inaccessible to all but the most serious backpacker but thankfully, running down through the core of Alberta's mountains, winding its glorious way through forest and wilderness from one river valley to another is Alberta's Forestry Trunk road. Although it is hardly known outside the province this mostly gravel highway travels without a break from Grand Prairie at the northern end all the way down to the American border. Stretching to a distance of over 700 kilometres it provides access to a staggering 20,000 km. of river fly fishing and innumerable opportunities to cast a fly on alpine lakes. What makes the region even more incredible is that virtually all the fishing is there for the taking. Just buy a provincial licence for about £25 and armed with this and a W.I.N. card (wildlife identification number) and you can literally fish wherever you wish. The only restriction is getting access to the waters and in the more remote regions, it is the forestry trunk road that in most cases does just that. Even better still is the fact that distributed at regular intervals all along its entire length are well-established campsites which you can utilise as base camps for every section of the highway. When you add fabulous scenery to this formula then you truly have for fishermen a highway to paradise.
Constructed in the nineteen forties and fifties the road's original function was to provide access for forest fire control and logging. Today it is still used for the above purposes together with oil and mining exploration. Travel the road in summer these days and you more likely to meet campers, backpackers, canoeists, hunters and fisherman who want to spend time in the mountains but avoid the tourist hordes in nearby Banff and Jasper national parks. The highway remains mostly gravel and though it is well maintained for this type of road should you decide to drive along with it for any extended distance it possesses enough "features" to test every nut and bolt on your vehicle.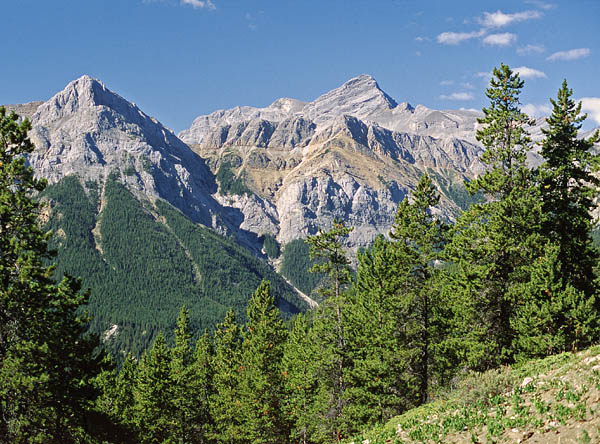 Fortunately, for those who do not have suitable transport than as the highway meanders southwards, it is crossed by several major highways. From there it is still possible for you to access some of the best fishing directly or alternatively just make "short" excursions along the trunk road itself.
Since this the most likely scenario for a visiting angler I have concentrated my attention on areas within the range of the major surfaced highways.
I dream of one day spending a whole summer following its complete path but having fished on various occasions rivers along its considerable length I would like to share with you some basic information and a few of my experiences to provide just a glimpse of its potential in the hope you visit this spectacular area. If you do you will enjoy an experience that will provide memories you are likely to reflect on for the rest of your life.
Northern Region
In this section, I have included the region on either side of the 'Yellowhead', no16, highway. This is a busy area with its constant stream of holidaymakers on route to and from Jasper national park.
Northwards from highway 16 towards Grand Cache at the end of the highway, the area is probably in fishing terms the least frequented stretch of the whole trunk road.
This is Bull trout and Arctic Grayling country. If you want to catch a 'big' fish in the eastern slopes streams then head north and hunt the Bulls. The Bull trout has been designated as the fish emblem of Alberta. It is actually not a true trout but a Char and was once falsely called Dolly Varden, a separate species of the western slopes and only to be found in one alpine lake in Alberta. Bulls are inhabitants of cold mountain streams and distributed all over the mountains. They have the propensity to grow large in the cold nutrient-poor waters of the mountain streams by means of a fish diet, mainly Rocky Mountain Whitefish. It is not uncommon to hear tales of nine to ten pound Bulls being caught in the smallest of streams. Bulls are well known for their aggressive behaviour and are widely accepted as being relatively easy to catch. Sooner rather than later you will be bringing yet another Rocky or trout to the bank to see a huge head and mouth appear out of the depths with its gaze set firmly on your prize. Often, but not always, it will turn away at the last minute. When this happens keep your nerve and change your dry fly for a Clouser minnow or large woolly bugger. Cast it into the "hole", let it sink, begin to strip or jig it out and hang on. You will sometimes witness the Bull savage the streamer and shake its head in apparent arrogance before the fun begins.
Tales of Bull trout are legendary but the one I like most was an account I read of an old local method to capture the monster fish. It involves live baiting. Not with the fish kind but a live mouse which when attired with suitably large hook is floated out on to the stream on a small raft of wood. At the required position in the flow and a quick yank on the line pulls the poor creature into the water forcing it to swim to the bank. The rest I leave to the reader's imagination.
Bull trout can grow into double-figure weights but are very vulnerable to over-exploitation by fisherman. Their numbers fell back so dramatically that in 1995 the Albertan government imposed a total ban on the killing of Bulls to preserve this remarkable fish and this policy is now beginning to show rewards.
Every Albertan angler knows the catchphrase 'if it's got no black put it back' which refers to the best method of identification. You can catch Bull trout all along the forestry trunk road but if Bulls are "your thing" then the less pressurised rivers of the northern end are your best bet. The Muskeg river is an excellent place to try. It has good access and is also full of wild Rainbows, Rocky Mountain Whitefish and below the Muskeg falls Arctic Grayling.
Arctic grayling are confined in Alberta to the northern rivers of the Athabasca drainage. In the forestry trunk road region they do not grow very large and are likely to be in the half to one pound range. Nevertheless, they are a very obliging fish and rise well to the dry fly and are suckers for small gold heads fished in the traditional down and across method.
Perhaps the main attraction of grayling is the sense of solitude and wilderness one gains from the remote, forest-clad northern streams where they are found. If you want to try for grayling then the best river has to be the Little Smoky though there are several others including the Macleod and its tributaries.
I have enjoyed some great days on the Freeman river though one afternoon I spent a frantic hour or so dodging fallen trees that had been uprooted by violent winds and thunderstorms.
Middle Region Rocky Mountain House
Moving south the next convenient access highway is the David Thompson highway running from Rocky Mountain house which intersects the forestry trunk road at Nordegg.
Named after the Welsh explorer who mapped so much of this region the highway passes through spectacular mountain scenery as it approaches Banff national park.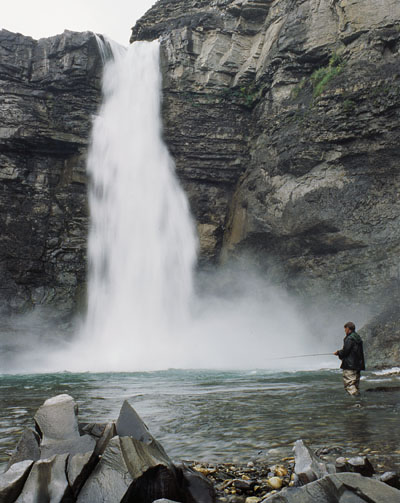 This region gives the angler a much wider choice of rivers, some world-class Cutthroat fishing and stunning locations. It is also very convenient if you want to take a day off and visit Banff national park only an hour away.
You can fish in the national parks of Canada but it requires a separate fishing licence and an article in its own right. The preeminent rivers of this region are the North and South Ram rivers.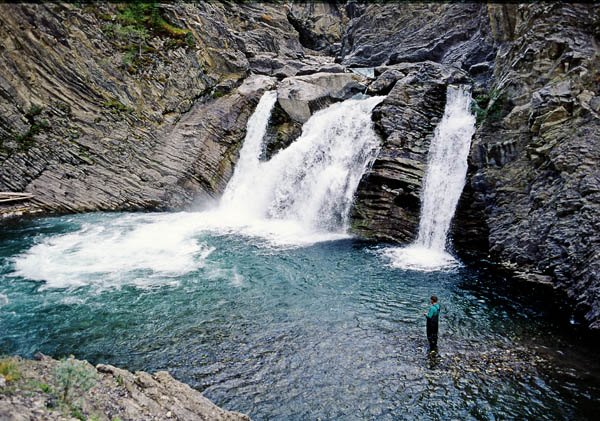 Once fishless due to natural barriers downstream Cutthroat trout were introduced to them many years ago and have since thrived supported by their remoteness and catch and release policies.
The South Ram is a true wilderness river plunging into a deep gorge for many kilometres just downstream of the trunk road. This canyon has become a "Mecca" for dry fly enthusiasts some of whom are prepared to pay out big fees for helicopter transport deep into the inaccessible regions of the gorge.
I am told that you can catch dozens of Cutts each day up to several pounds in weight but I cannot afford the astronomical fees for the flight.
Do not despair because if you are really determined then hike in. There is a campsite at the entrance to the gorge and how far you get is up to your determination and endurance.
I was once quoted over $1000 for a flight to a high mountain lake to fish for Brook trout. In the end, I hiked it. It only took two and a half hours and the fantastic scenery was also free.
If a long hazardous hike does not suit you then the headwaters of both Ram rivers and their tributaries are absolutely stuffed with fine fish and are very easily accessed.
I caught well over a hundred fish on a single dry Humpy(my only 100 fish fly) in one session on the south Ram yet never wandered more than 2 km. from the highway.
Perhaps, the most spectacular river to fish in the whole of Alberta is the Bighorn. You can park at the side of the David Thompson Highway and gradually work upstream into an increasingly deeper, spectacular canyon until you feel totally enclosed and are within the very bowels of the earth.
This is not for the claustrophobic. The target again is mostly Cutts, but the fish you catch will take second place in your memories to the fantastic and beautiful location you fished in.
The nearby Blackstone river is a particularly beautiful mountain stream for which I have a particular affection having caught my first Cutthroat trout from it.
On this river, I once spent the best part of an afternoon trying to lure two fish I thought were Cutts to the dry fly. They were rising steadily to western green drakes of which I knew very little at the time.
These two particular fish would have nothing to do with my offerings but after repeated changes of fly and a great deal of frustration, I eventually got them both.
It turned out that they were not Cutts but small Bull trout of a pound or so in weight. I have since learned that the Blackstone is one river where for some unknown reason Bull trout will readily take a dry fly.
Western Green drakes are important flies in the mountain streams time.
They usually appear from early to mid-afternoon on these mountain rivers and will bring previously unseen fish to the surface.
The hatches are usually sparse and the chances are that it is the fish will tell you of their presence through their confident deliberate rises.
If fish start rising in the afternoon suspect a western green drake hatch and put on an appropriate imitation.  This is a fly for which you definitely need to carry a pattern to imitate or expect frustration.
Unless you observe a definite hatch, dry fly fishing is best approached by working upstream from pool to pool casting to likely lies. This method of searching the water can be very effective and satisfying but when you can spot steadily rising fish then a lot of the work is done for you.
The Nordegg region is also a good one for that most underrated fish, the Rocky Mountain Whitefish or simply "Rocky".  Resembling a silvery grayling, "Rockies" are found everywhere in the mountain rivers and lakes. They are mostly subsurface feeders but will rise readily to a dry fly if a hatch occurs in the afternoon.
If you want to catch Rockies(and I often do) then bounce a gold head hare's ear on the bottom of the deep pools or fish the same fly down and across the necks of other pools(or holes as they call them in Canada). You should be rewarded with some hard fighting, superb eating fish which can run up to 3lbs or more in weight. One observation is needed concerning the Nordegg area and that it is very prone to heavy thunderstorms in July and August which can be problem.
Calgary
Calgary is the airport most U.K. anglers are likely to use to fish in Alberta. Through it runs the blue ribbon Bow River and I have no doubt that you could have a wonderful time fishing this river exclusively.
The best water is East of Calgary the river having been "fertilised" by the produced of nearly a million people. The fishing is all it is claimed to be.
I once met an elderly American one evening at Cardisland who whispered in a daze he had caught only four rainbows that day but they were the four biggest fish that he had caught in his whole life.
I have not managed that but had magnificent sport with smaller fish using dry elk hair caddis patterns late in the evening when the river often boils with rising fish.
Despite this, I rarely fish the Bow. It is by British standards a huge river and not that easy to fish from the banks.
I believe you cannot truly "read" a river of this size and fish it well. It removes the need for many of the river craft skills developed over years on smaller streams from which I get the greatest pleasure.
Most fishing on the lower Bow is carried out from drift boats and with guides. It's great if you can afford it but I can't.
Follow the Bow towards the mountains and it becomes more manageable and it is to this stretch that many of the locals go. I suppose the Bow is a "must-do" river, but confine your attention to it alone and you will be missing out on some fantastic opportunities elsewhere.
Southwest of Calgary the trunk road is surfaced to serve the hugely popular recreation area known as Kananaskis or simply K- country.
There is a huge range of fishing opportunities in this region, but don't forget it is only an hour from the city which means it is subject to more fishing pressure than other areas.
The highlight of the region is the Highwood river valley. A moderately sized pristine sparkling catch and release river it contains excellent rainbow and to a slightly lesser extent cutthroat trout.
We have travelled a long way south from Grand Cache and at this latitude with the weather being warmer and summers longer it equates to larger fish.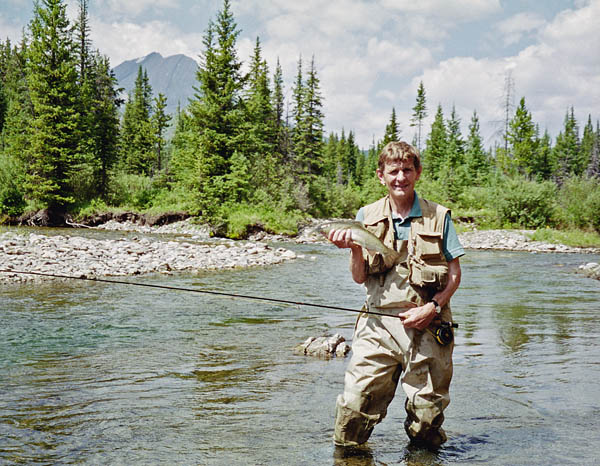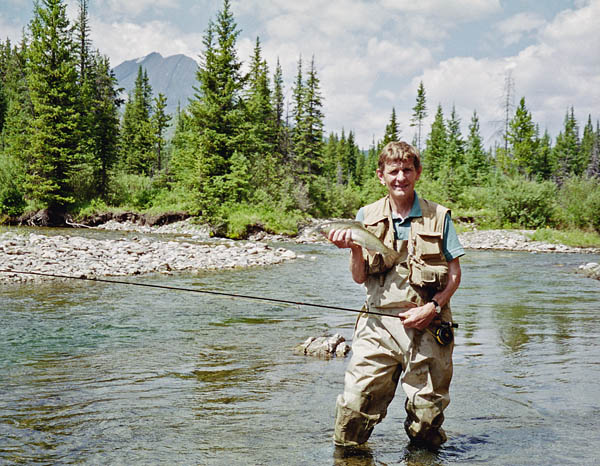 The Highwood certainly delivers in this department and though you must not expect monsters even on the upper reaches of the Highwood which are lightly fished every pool will have its 18-19 inch fish.
Through K-country the trunk road is surfaced as normal roads and it traverses the highest road pass in Canada.
Among the innumerable high peaks lie a wealth of alpine lakes so if this prospect appeals to you then this area provides your best opportunity.
Many alpine lakes in the Rockies have been stocked in the past since natural barriers to migration have prevented natural colonisation.
The government programme for stocking is well organised and thorough. Most of the lakes contain Cutthroat, Rainbow or Brook trout. Some lakes are managed as trophy waters with strict catch and release policies in order that the fish may grow on to several pounds in weight. Others have superb fishing simply because they are too far or difficult for most anglers to make the effort.
Those who do are amply rewarded. I have forded the Highwood River, hiked for 7 hours, scrambled up a 200 ft. cliff and only had time to fish for about one hour before a 6-hour trek back to the car.
The reward was about 25 large Cutts on dry fly as they cruised beneath an overhanging ice flow at nearly 8000ft. Unforgettable!
Other lakes are far less challenging so if you want alpine lakes go to K-country and make your choice.
K-country also means Brook trout. Brook trout are really a char and native of eastern Canada.
Brook trout have been widely stocked and due to their legendary rate of reproduction have multiplied rapidly in some regions to the detriment of other species.
They are beautiful fish, provide excellent sport and are willing risers.
In recent years there has been a move to try and return aquatic habitats to their native species and of the imports, the brookie is the least welcome.
In the Highwood catchments, the rule is catch and release except for brook trout.
If you want to catch a brook trout try Cataract creek. You cannot fail.
Chinook Country
I have, as one might expect, left the best until last.
Down in the extreme south-west corner of the province is an area named after the warm winds which blow up from the pacific ocean bringing mild conditions even in the depths of winter.
This has to be one of the premier trout fishing regions on the entire continent. Chinook country is within the catchments area of the Oldman River system itself a tributary of the Bow.
Every stream in this region, whatever its size, is probably worth fishing. It is only in the Oldman system that Cutthroat trout are truly native to Alberta.
It always an added pleasure to catch fish where they truly belong so it is appropriate to discuss them at this point.
Strangely enough, the Cutts of the Oldman system is listed as West coast cutthroat even though they inhabit eastern flowing streams. Named such as they have a red slash beneath their throats, Cutthroat trout is an anglers dream.
They can survive and even do well in ice-cold streams high up in the mountains.
Long after Rainbows have disappeared Cutts will thrive. They are a true mountain trout will feed furiously all day even in the hottest sunniest weather and will usually take about any offering the angler puts in front of it.
To wander from pool to pool on a cloudless day, among snow-capped peaks, flicking your dry fly into likely spots in fabulously gin-clear waters has to be paradise.
The chances are you will not see another angler all day or for that matter several days. This is what Cutt fishing is all about and one of the best places to do so is Chinook country.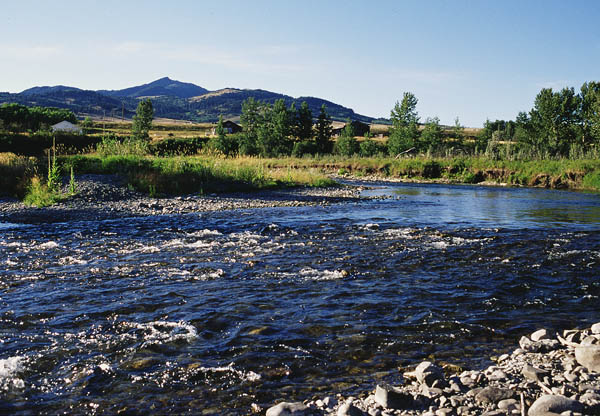 Chinook country also possesses a river which some Albertans rate a better rainbow fishery than the mighty Bow.
The Crowsnest River runs alongside both the Canadian pacific railway and main southern highway through the Rockies as they travel through the Crowsnest Pass. Together with several small towns both access and quality accommodation are readily available. It is a river that would fit into the British idea of what a good river should be.
Easy to walk and wade and full of magnificent wild trout.
It has been said many times that if the Crowsnest flowed over the U.S. border a few miles away it would have as many fishermen as fish yet visit on a weekday and you may have a couple of miles to yourself.
Find a good pool creep to the edge and look into it unseen and I guarantee your jaw will drop by the quantity and quality of the fish.
They are reputed to reach 8 to 9 pounds but it is the quantity of the one to three-pound fish which will amaze you.
The other main rivers are much wilder in nature. Rainbows can be caught in them but the further you penetrate into the mountains so the proportion of Cutthroat trout increase until all you can catch are Cutts, Rockies and the occasional Bull.
The main Castle river and its tributaries, the south and west Castle, have everything you would expect from an untamed alpine stream and remain my favourite location in all of Alberta.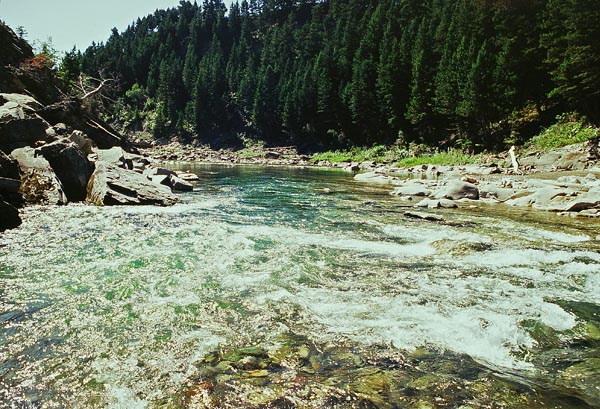 The river is totally wild with spectacular reaches. The water is unbelievably clear and the fish look exactly as they should.
Many of the rivers in Chinook country were made catch and release in the late nineties and the rewards of this enlightened policy are now becoming apparent.
On one small river, I fish the average size has almost doubled since pre catch and release.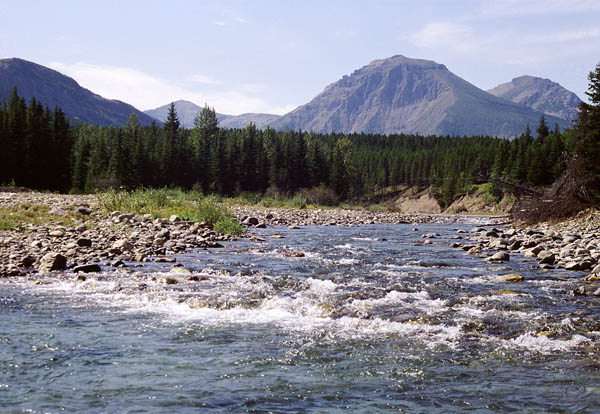 Chinook country has one more jewel in its crown-Golden trout. This colourful subspecies of Rainbow trout are indigenous only to a restricted region of the High Sierras of California.
"Goldens" can only thrive in the cold pure water of high alpine regions and have been introduced to a restricted number of suitable lakes in Alberta.
They are not the man-made hybrids we call goldens in the UK.
I believe there are only about a half dozen lakes which still possess a stock of these fish in the whole of Alberta and four of them are found in Chinook country at the headwaters of the Castle River.
Their range in Alberta is likely to remain limited to that at present and everyone who visits this region should consider making the effort required to reach these pristine lakes.
Three of the four lakes known as Barnaby and the two Southfork lakes are clustered together as exquisite jewels tiered one above each other high on the flanks of the Southfork mountain.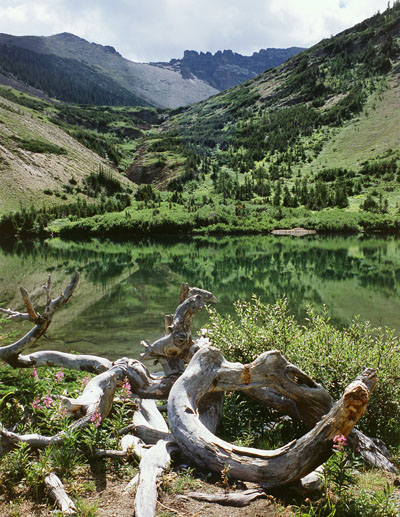 The trail distance is not that far but the route involves is a relentless scramble up steep slopes of loose, open screed.
As you heave, puff and sweat your way up the endless slope you can admire the magnificent views and at least comfort yourself with the thought that no "quad could cope with the terrain.
Only the deserving few are privileged enough to fish these lakes. The reward is immense. Scramble along the screed above the upper Southfork lake and scan the deep waters carefully.
It is not difficult to spot a bright reddish-orange fish cruise slowly by.
When you do if the sighting does not increase your heartbeat then nothing in fishing ever will.
They are not easy fish like their cousins down below. On calm days even a tiny dry fly landing on the surface will scatter them to the depths.
The Crowsnest pass is close to the British Columbia border and an hour or so driving takes you to the Elk river regarded as one of the premier Cutthroat rivers on the continent. But that's another story.
Equipment
Most of the mountain streams are small to medium in size being so close to their sources. In fact, most British river fishermen would find their dimensions quite familiar. In some ways, they are reminiscent of west coast highland spate rivers.
There are a few very large rivers such as the Athabasca, North and South Saskatchewan but you may as well forget these anyway.
They are so laden with silt from glacial melt that they remain turbid all summer long.
Normal river rods work fine and from summer onwards it is invariably dry fly fishing which is practised. I use a 9ft. 5 wt. for the larger streams and big trout but try to drop to an 8ft 4wt at every opportunity.
Many locals use rods a small as 7ft. You could get away with an 8ft. rod for nearly all your dry fly stream fishing but a longer rod becomes useful for the mountain lakes and if you want to try a bit of nymphing.
You only need one type of line, which of course is a floater.
Please don't encumber yourself with too much gear. The essence of mountain fly fishing is to travel light and keep everything simple.
It is a approach you will really appreciate after walking miles into the hills on a hot sunny day.
It has been often stated, quite correctly, that the further you get from the highway the better the fishing.
The supporting statement that 20 minutes walk will get rid of 90% of the fisherman is also true, so travel light and be prepared to walk.
I fish dry fly almost exclusively on the Mountain Rivers because it is so much fun and this means working my way upstream.
My normal procedure on parking the car is to walk downstream for up to 3 hours.
Before working my way back to the parking lot. This seems a hell of a long way to hike but on the Mountain Rivers the "Holes" can be a few hundred yards apart this will give me a full days fishing.
 Alternatively, I will walk upstream for at least 20minutes or until I cannot see any significant traces of people.
The problem with this is that you are getting further and further away from your base and have to walk all the way out.
When concentrating on fishing it is very difficult to judge how far upstream you have progressed.
The result is I usually head back downstream far to early to be on the safe side.
You don't want to catch out in the dark in this country.
 All the walking I appreciate is not to every one's taste but good fishing can still be obtained close to roads especially if it is catch and release water. The rivers are very cold and even when the daytime temperatures reach the 90's the water temperature does not rise.
Local anglers often "wet wade" which involves wearing an old pair of trainer type shoes and shorts. Since you tend to be constantly on the move as much time is spent out of the water as in it and when you are wading it's usually only up to your knees. I still prefer to dry wade and the modern breathable waders fit this bill perfectly. Thigh waders are pointless You may as well  " wet wade". The river water is invariably stunningly gin clear and with thigh waders, you will soon misjudge the depth and get a boot full.
Carry plenty of drinking water. You may be tempted to savour the river water but DONT.
Some of the rivers carry a micro-organism which can cause severe upsets and known as "Beaver fever."  No, this not a joke.
The mountains are subject to spectacular thunderstorms so a packable raincoat is worthwhile. You can usually tell if there is going to be a storm in plenty of time because you will see the clouds bubbling up in the late morning.
The Nordegg area is particularly prone to storms in the July August period. If the sky stays fairly clear until early afternoon you should remain dry.
Add some food, suntan lotion, mosquito repellent and shades and you are well on your  to being set up for the day.
Flies
I just love the flies used for river fishing the Canadian Rockies. They are such a departure from what we are used to in Britain.
Forget all the finer points of dry flies and go for size and presence. Winters are long and very hard in the mountains.
At the northern end of the forestry trunk road summer only lasts a few months and the rivers open to fishing for a similar period while the higher up into the mountains you venture the same applies.
Trout have to feed hard and voraciously to pack on enough weight to see them through the winter. They cannot afford to be fussy and usually any fly which is well presented and looks edible will be hammered.
I use the word hammered deliberately because many times I have witnessed Cutthroat and rainbows shoot up through several feet of fast turbulent water and engulf the fly as though it's the last one left on the planet.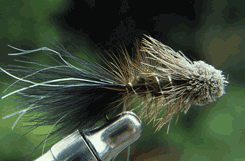 There are other times when they can be as fussy as a chalk stream brown so it still pays to carry a suitable collection of more "conventional" flies.
This is more likely on the more gentle fertile streams such as the Crowsnest. We always carry too many flies and if you wish to cover most possibilities then I suggest you visit the web sites listed at the end together with a Crowsnest hatch chart for the whole season.
Personally, I have enormous faith in the Humpy dry fly in the royal version for mountain streams which aids visibility in the fast and crystal waters.
I am considering for future trips tying some with a pink wing much like the "pink hammer" version of the Klink hammer special.
In certain light conditions even the large white calf tail wing of the Royal Humpy is difficult to spot. The Humpy floats like a cork, represents a whole range of insects and is very durable.
As I mentioned earlier in the article I once caught a 100 Cutts with the same Humpy fly on one memorable day on the South Ram River.
Sizes 12 and 14 work well for me.
If I decide to use a larger fly then I usually change to a Turck's Tarantula, a sort of grasshopper imitation.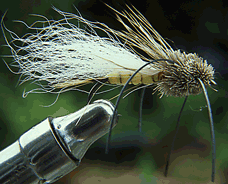 I think it's the appeal of the name which attracts me as much as its fish catching abilities because there are several other similar alternatives.
The Crowsnest River is more demanding in terms of presentation and pattern of fly and is somewhat similar in its demands as the better rivers of the U.K.
Again visit the Crowsnest angler for detailed information. I have done well with the F fly in very small sizes and large Klink hammer Specials in the fast water during the middle of the day.
Practicalities
Getting to the regions I have described cannot be much easier.
Flights to Calgary or Edmonton are frequent and popular enough that you can search for reductions.
Car hire is just as easy but check on the usage limitations.
Some companies will not allow their use off paved highways. It is possible to stay in motels but you will miss so much of the atmosphere of the mountains if you are not prepared to camp.
All campsites are well maintained but do not expect European facilities.
Expect pit toilets, and pump water but to offset these limitations you will get your own pitch among the trees, an open fireplace to grill your steaks and a table with bench seats.
It is at the campsites that you are likely to meet and talk to other like -minded campers and fishermen who are invariably a mine of information.
You might even wake up in the morning to see deer and elk wandering around the site.
There is one topic that comes up every single time I describe fishing in Canada.
You guessed it- bears.
Not the cuddly ones you have in your sleeping bag but the great big ones. Yes bears are dangerous, yes people do get mauled and even killed but the reality is often greatly exaggerated by people trying to impress.
More people die of bee stings in Canada than bears so there is no need to become paranoid.
Reams of advice are available concerning bear encounters and they usually serve only to both confuse and frighten the reader.
Firstly, do not let the prospect of meeting a bear prevent you from fishing remote areas.
Bears do not lurk in the trees waiting to eat the first person to pass by.
You are very unlikely to meet a bear especially if you make a lot of noise .
I recommend the advice provided by the Albertan government which is available at the website I have listed.
As to the best time of year to visit Alberta, then I would recommend anytime after the spring snow melt is just fine.
This is usually over by early July and from August through to October the rivers are generally low and clear which is what you want.
Remember, if you are camping that it can get cold in the mountains and snow at anytime of the year.
Last trip we had 2-3 inches of snow in August, enough to collapse our tent.
Frost is common at night yet during the day it can hit the 90,s. so be prepared for both.
Further Information
If you do decide to taste the pleasures of Alberta's mountains then I strongly recommend the following resources.
Good maps are essential for both road routes and hiking. Do not go into the mountains without a good topographic map and compass. Know how to use them. Twice we have hiked without detailed maps and subsequently failed to find our destinations. Hiking maps should be good enough to show height contours. 1:50,000 is the scale of our Land ranger maps in the U.K. and the equivalent of these are available for Canada.
They can be purchased on line from the address I have provided prior to your departure. You can buy road maps almost anywhere but multimap .com is a web site worth viewing
Detailed fishing maps of the most popular areas are available both online and from fishing tackle shops.
The Alberta fishing guide is published annually and lists all the fishing waters in the province and the species in them. It does not give you much information concerning the quality of the fishing in each location but is widely available in most fishing tackle stores where you will have to visit to purchase your fishing licence.
"Fly fishing the Canadian Rockies" is a substantial book and contains a mass of information for most of the region and more. To complement this book is "Alberta's trout highway" by Barry Mitchell. They will become your fishing bibles.
In the eventuality of you deciding to make a visit to the Rockies then you will find the following sources invaluable.
Most of the publications are available on line and well worth sending for before your trip.
Fishing Information
www. telusplanet.net/public/cnangler/html/home.htm – This is a superb web site with all you need to know about this fabulous region including a fly tying section which covers about every possibility and more. It will also link you to the Crowsnest angler. This is a fly shop run by Vic Bergman whom you can contact if you wish to arrange a guide.
www. flyfishalberta.com/rivers/index.htm – This site provides information on a range of important rivers.
www. members.shaw.ca/ramriver – Lots of info. About the Ram river system.
Maps
www. telusplanet.net/public/iceriver – This company publishes a set of 9 detailed fishing maps of the more popular areas of Alberta.
www. canadamaps.ca – An excellent source for a whole variety of maps for the region from tourist to topographic maps.
They are very helpful and if you give them some details of the area you are visiting you will get excellent advice concerning the maps you need.  They will post them to you in the U.K.
National Parks
www.parkscanada.gc.ca/index_e.asp – Access to all the mountain parks.
Accommodation
www.discovertherockies.com
Bears
www.3gov.ab.ca/srd/fw/bearfacts/index.html – Bear safety. Official advice from the govt. of Alberta
Books
"Fishing the Canadian Rockies" by Joey Ambrosi pub. Assiniboine productions  IBSN 0-9688677-0-7
"Alberta's trout highway" by Barry Mitchell pub. Nomad Creek books IBSN 0-9688603-0-3
Between them, these books cover in great detail everything I have said and a lot more. They are must buys.