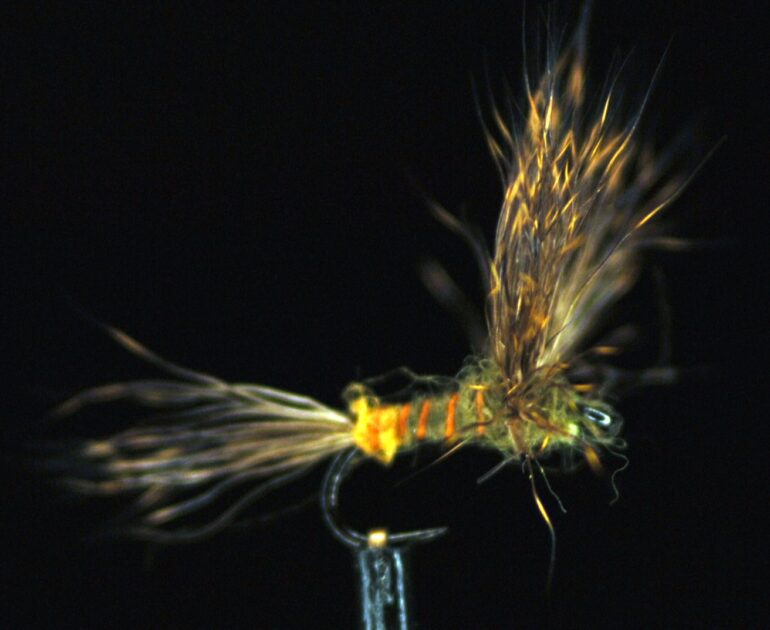 The Comparadun Universal Baetis
This is a general use pattern that imitates Olives and other upwinged flies that hatch on running water. It can be fished as an emerger, as a dun or as a spinner.
This particular tying has been done in the Universal Baetis pattern originated by Hans van Klinken & Leon Links (1997). but can be tied in any format and size you wish to represent other invertebrates.
Materials
Silk – Semperfli Nano Silk, yellow, 18/0 (30D)
Hook – Ahrex FW503 Dry Fly Light, size 16
Tail and Wing – Deer hair similar to X Caddis deer hair in the colour to suit the hatch
Body – Fly-Rite dubbing in 17 and 42
Rib – Pearsall Gossamer silk 6A Orange or similar
To see how to tie this fly watch the video tutorial below:
WHY NOT JOIN US?
The Gwent Angling Society is a progressive, conservation-minded club offering fishing on six beats on the River Usk, two on the River Wye, the Sirhowy river and Afon Llynfi (Powys), and the wonderful Talybont Reservoir. Our waters can be viewed here. If you are interested in joining us or have any queries, simply contact our Membership Secretary.