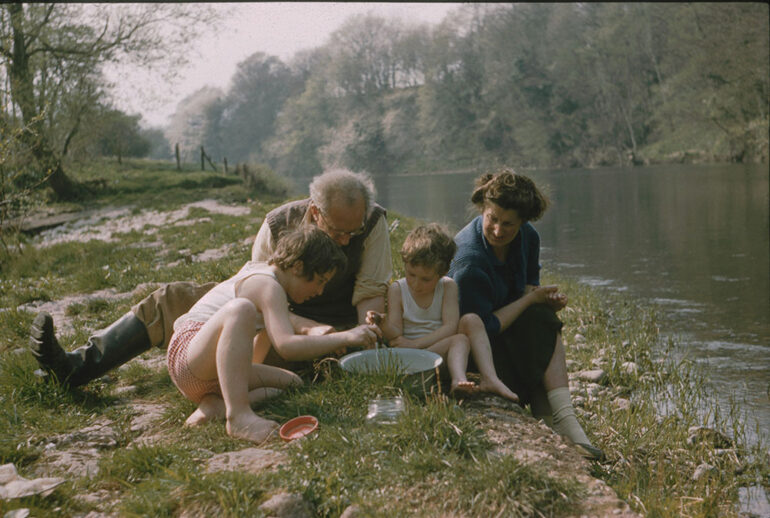 Michael Wade – A Man of the River

There are a number of people that we meet or hear of that have a profound effect on the rivers we fish and often they go unseen or unrecognised for the work that they do.
One such man is the late Dr Michael Wade. A General Practioner whose surgery was in Risca for over 40 years.
Michael Wade qualified as a doctor at St Thomas' Hospital in1944. He subsequently served in RAMC for two years before joining his father as a GP in the practice at Risca. He later took over the practice running it from 1946 until 1986. Initially, Michael's main sport was rugby and he played centre three-quarter at St Thomas'.
His life was to change as he married Diana in 1947 and they had five children – Derick  (1948), Twm (1950), Philip (1951), Helen (1953) and Myfanwy (1957).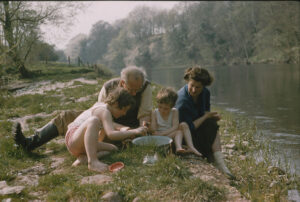 His marriage introduced him to the River Usk as Diana's family had fishing on the river.
Up to this point Michael had never fished and being a scientific man concluded that if one is to be successful at the sport you had first better learn what they ate.
As a scientist, he set about the task by methodically identifying what was hatching on the river throughout the season and what specifically the trout were feeding upon.
He documented his findings and also educated his children into the dark arts of entomology.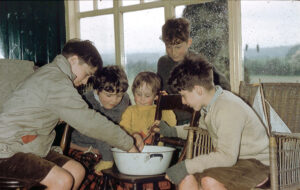 The family records of the beat he fished were maintained. Flies that were on the wing were identified by their scientific name and each trout harvested was subject of an autopsy where again its stomach contents were documented.
This record was secured and copied by members of the River fly Project and as I understand it a copy was taken for the British Library.
This record is unique in that it clearly identifies what insects were prominent between 1950 and 1986 and perhaps more importantly when they started to decline.
In addition to identifying these wonderful insects, Michael also set about by recording them by photograph and preserving the actual insect in resin.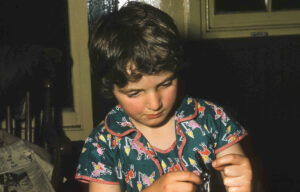 His daughter Helen recounts that many a comparison was made as to what was in the stomach contents and what fly was used to catch the fish and rarely was there an alignment between the two.
A memory shared was a time when he tried to photograph flies mating in the air. To do this he attached his camera to a length of wood, which amused the family immensely. Unfortunately, the result was only a few black blobs in the middle of nothing on the print.
Another of Dr Wade's passions was to help the recovery of rivers in the industrial valleys of Wales such as the Sirhowy and Ebbw in particularly and to attain a level where they could again sustain wild trout.
Up until the 1970's many rated the River Ebbw, which flows from Ebbw Vale to Newport, as the most polluted river in the UK.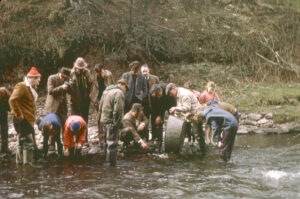 It was well known for changing its colour depending on what waste materials were being washed into its waters from coal mines, steelworks and human waste. It was devoid of all life. The Ebbw's tributary, the Sirhowy, was also polluted from coal mining.
As the driving force behind Risca Fly Fishing Association Michael was actively negotiating fishing rights on a dead river. A few sceptics thought he was mad to do so.
He clearly had the vision and a long-term view of such matters and understood that the work he carried out would benefit others rather than himself.
Eventually, the coal mines in both valleys closed one by one. The Sirhowy was the first to start recovering and under Michael's leadership along with a team of like-minded people had the pleasure of putting the first stocking of trout into the still coal dust cloudy river.
Many pollutions and fish kills were to follow but thankfully they gradually became fewer and fewer. Eventually, the Ebbw itself became clean enough to support fish and today both rivers have a very healthy population of brown trout with increasing runs of both Salmon and Sea trout.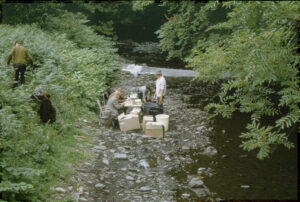 There can be no doubt that Michael Wade can claim the title of the "Father of Fishing" in the Western valleys of Gwent and remains a legend today among the valley's fishing circles.
He clearly had the vision and long-term view of such matters and understood that the work he carried out would benefit others rather than himself.
Such was his reputation as an entomologist he was acknowledged in books written by angling authorities of the 60's. Specifically, Oliver Kite who acknowledges Michael's help in his book "Nymph Fishing in Practice" with dealing with the classifications of natural nymphs.
He regularly ran entomology study days and also visited many clubs giving them instruction and ran a slideshow explaining the differences between the flies that are so important to our sport.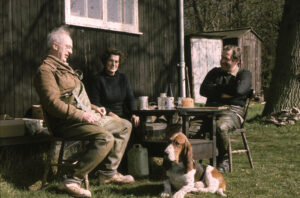 Michael's family has kindly allowed me to copy many of his slides and a series of articles will follow explaining what trout eat and the photographs identifying the fly at various stages of its life.
The Family are very much like their father in that they want everyone to enjoy their time on the river and are happy that knowledge, which could have been forgotten is now back in the hands of the anglers.
All I ask of you is to share the information with others so that one man's vision for the river can be realised.