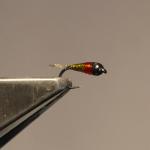 Simple Nymph Pattern
Here is a video for a simple nymph pattern for the Grayling. It will also work nicely for trout.
Hook size: 14 barbless Partridge
Head: Tungsten bead 2mm
Silk: as body material
Body: Nymphit olive
Thorax: Nymphit red
Varnished with Deer Creek UV Hard resin and blue light.