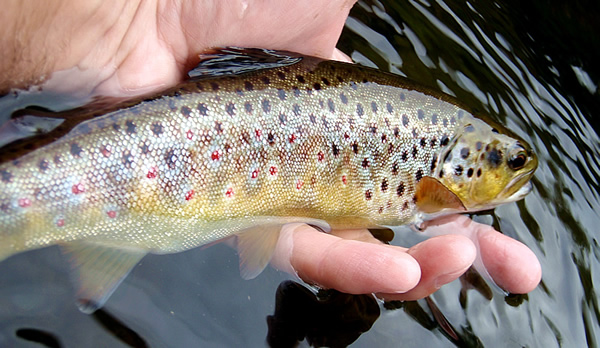 Keeping Things Simple (A Guide to Fishing Small Streams)
Fly fishing on small streams seems to have risen in popularity over the past few years; small waters which, previously many would have passed without so much as a thought, are now earning a reputation for fantastic and challenging fishing, as well as for their high numbers of small wild brown trout. The casting conditions maybe a little more confined and the trout a little smaller than those found on the main-stems, but what they lack in size, they make up for in both speed and beauty. I'm somewhat of a small stream addict, so much so that I regularly return from my small stream exploits with scrapes, an aching back and bruised knees, and usually totally exhausted, but that's just part of the fun. If you don't work for these wild fish, they won't come easily.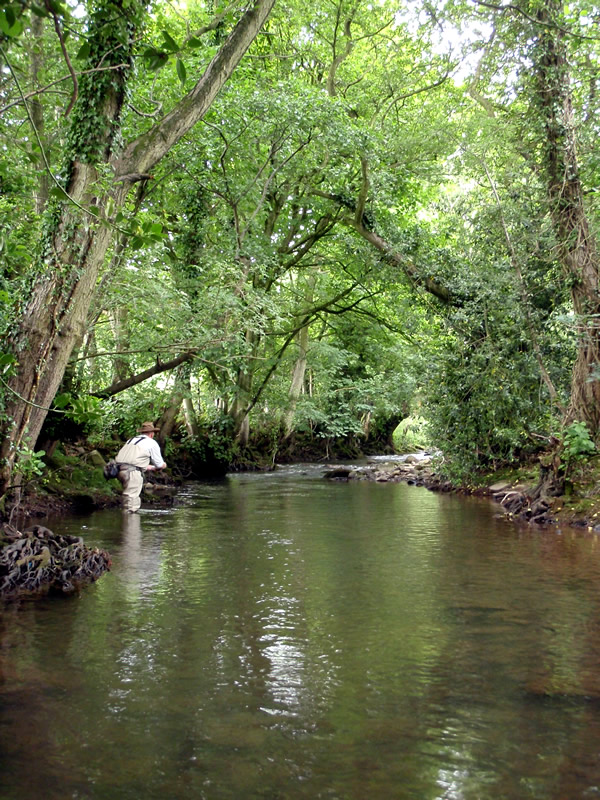 I'm asked by anglers time and time again, what flies should I use to on the tributaries/small streams? and my reply is usually anything. In fact, fly choice is, in my opinion, a secondary concern. We will, of course, talk about flies in a little while, but if you only take one tip away from this article, let it be the following. The trout in our small wild streams and tributaries are easily spooked, so we have to adjust our fishing styles to reflect this. These small wild trout have learnt to survive in an environment with, generally, faster flows and less food than that enjoyed by their main-stem cousins. Because of which, the size of fish are generally smaller but usually fin perfect and shining examples of what a brown trout should look like, in miniature or otherwise. A fish of 8oz is seen as a good fish and one of 12oz is a fish to truly talk about.
The Anglers Exhaustion mentioned above is due to the fact that, if you want to catch these fish successfully, you are required to creep your way into position. This often sees me and my fellow stream-obsessed anglers crawling, sometimes, on hands and knees, but more often than not, crouched over, unwilling to silhouette ourselves to our spotty friends as much as possible. That's it. If you stop reading now, and if you only apply a little more stealth to your small stream fishing (slow down your wading or, better yet, stay out of the water as much as possible, get used to lots more side-casting from down on your knees or learn to crouch like a ninja in the night in order to creep your way into position behind an un-expecting trout), your catch rate will improve.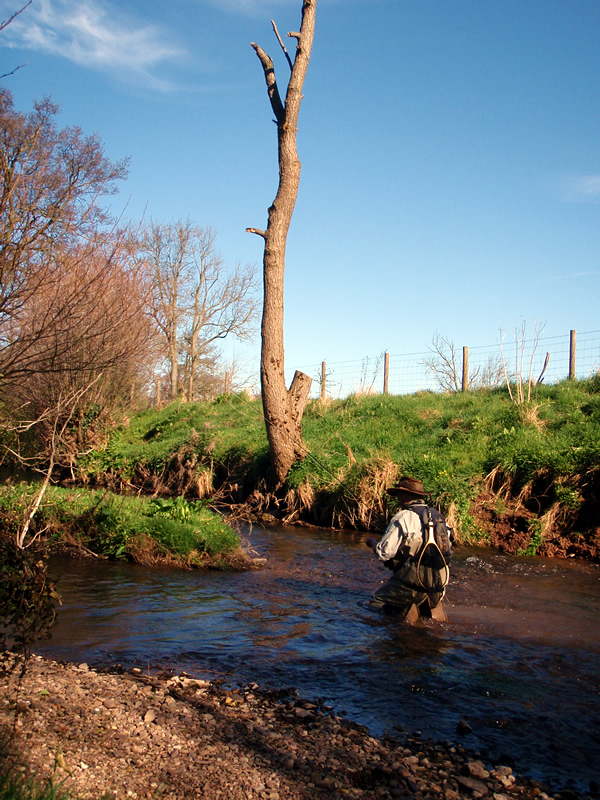 Now that our main objective is out the way, let's talk about flies. Small Stream Flies For small streams, I use just four patterns. After the hard work of hiking into these wild and beautiful places (after creeping on your hands and knees into a suitable casting position and, if you're lucky, have avoided spooking every fish in the pool/run) it's nice to be able to just relax a little and to be able to choose a fly from a small, simple collection and just know it will work. The micro-environs of our small free-stoners don't usually have the volume of hatches that the main stems do, neither do they have the same fishing pressure.
Because of which, the fish are wild and hungry, and in the faster running riffley water a large, bushy dry fly will usually be met with a confident and quite violent rise. In the interests of simplicity, my selection of flies is also easy to tie, another bonus if, like me, you can't be bothered with over-complicating something that's going to get wet, bitten to shreds, or lost in the trees. Consisting of three dry flies and one nymph, it's possible to tie up a full box of my favourite patterns in just one evening spent at the vice; a Klinkhamer (in black or light-tan), CDC & Elk, a small (size #24) biot paradun (tan or olive) and my only nymph, a tungsten bead-head pheasant tail nymph (variant). That's it, nice and simple.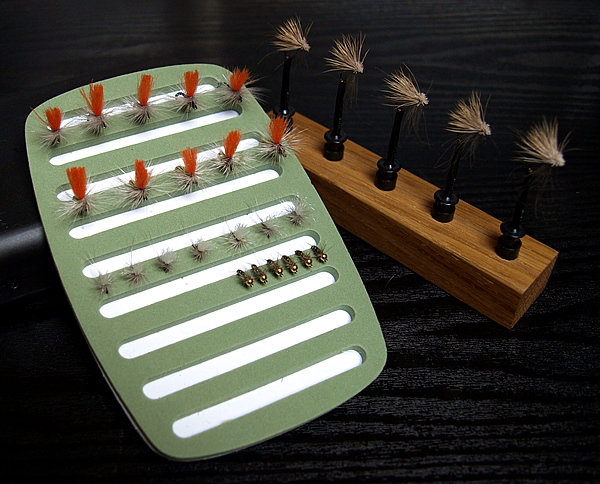 The Klinkhamer
When Hans van Klinken designed the revolutionary LT Caddis in 1984 (later re-named the Klinkhamer Special by a colleague, Hans de Groot) he couldn't have known how it would change the world of fly fishing and fly tying. Designed to be a big, buoyant pattern for fast waters, it mimics the emerging caddis (Trichoptera) during its ascending/emerging pupa stage. If you think this pattern is too big, just turn a few rocks next time you're near your local stream, and I guarantee that some of the caddis you'll find will be over an inch in size. These big flies are perfect for the fast riffley waters found on the small tributaries and streams here in South Wales, and the Klinkhamer is the first fly I've chosen to discuss, as well as being my number one favourite dry/emerger pattern for the smaller/wilder streams.
The Partridge Klinkhamer Xtreme 15BNX hook is a monster for its size rating; a size #16 BNX is easily a size #12 in an equivalent branded hook (the Kamasan B100, for example), so if you're new to this model of hook, be careful when purchasing them for the first time. As a guide, my go-to size for fishing small streams is a size #16; a larger size #14 for extra fast/turbulent waters or a smaller size #18 if the waters get a little slack or the fish spooky. One major advantage of using such a buoyant pattern is that it's perfect to use as the indicator fly in a Duo/New Zealand/Klink & Dink rig. Simply tie a  length of tippet to the Klinkhamer's hook shank and a tungsten bead-head nymph to the tippet. This method is absolutely deadly in the faster riffles and a God-send when the air temperatures are low or where there doesn't appear to be much surface activity. For further information on the Klinkhamer Special, please visit http://www.rackelhanen.se/eng/10029.htm.
Hook: Partridge Klinkhamer Xtreme 15BNX, #16
Thread: Roman Moser Power Silk 10/0, grey
Post: Tiemco Aero Dry, fluorescent pink
Hackle: Rooster, light blue dun or grizzled
Body: Fly-Rite Extra Fine Poly, #19 (Light Tan)
Thorax: Peacock herl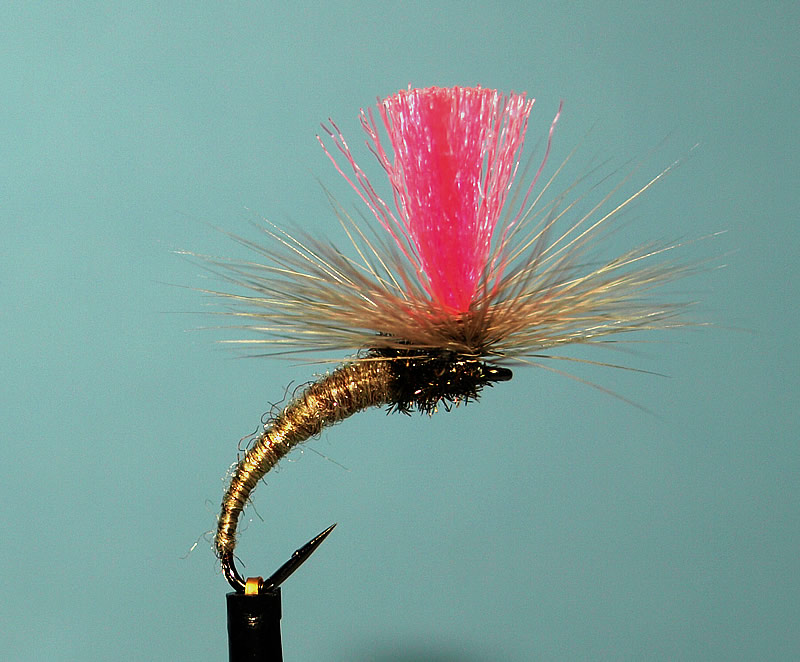 The Mighty CDC & Elk
The small streams of Wales (and my home stream in particular) tend to hold an incredible amount of caddis and so, to complete the life-cycle of the emerging caddis (mentioned above in the form of the LT Caddis/Klinkhamer Special), the CDC & Elk represents the adult caddis just beautifully, either as a freshly emerged caddis or as an adult that has returned to the water's surface to deposit it's eggs after it's short mating period. This fly has been another of my favourites for the longest of times. As simple as can be to tie due to its two ingredients, it requires little or no floatant to fish correctly and manages to pull fish up from the bottom easily. I tie my CDC & Elks in sizes #14 – #16 and it is highly mobile body just screams trout food! I once heard this fly called 'a lazy man's dry fly'. That suits me fine.
Hook: Partridge SLD, #14
Thread: Roman Moser Power Silk 10/0, grey
Body: CDC feather
Wing: Coastal deer hair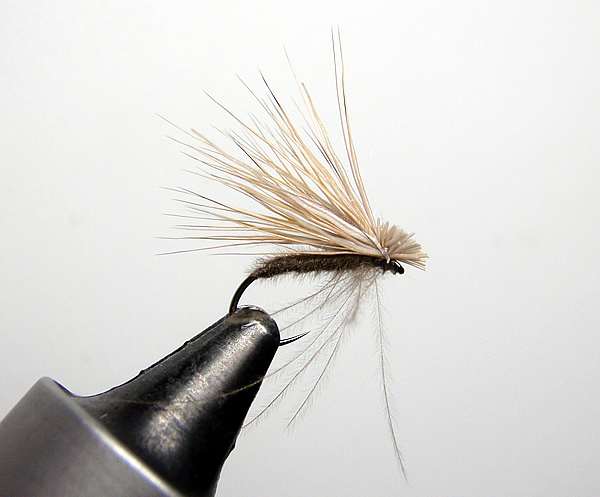 Micro Biot Paradun
The Micro Biot Paradun is another favourite. This is the only 'small' fly in my stream box and is also the most convoluted of the four to tie. Generally tied to replicate either the small olives (Baetis) or mayfly (Ephemeroptera) that call my local small streams home, these small up-winged flies are seen to hatch as duns, and then later to return to the water as spinners and can be seen at various time throughout the warm afternoons and evenings of the summer months. Although tied on a size #24 hook, the biot paradun is a fantastic dry fly for when the fish are locked on to smaller duns or spinners or when the fish are a little spookier than usual. Don't be put off by the size of this pattern, however; this micro-pattern is easily seen thanks to its fluorescent pink AeroDry wing post.
Hook: Grip 11911BL, #24
Thread: Gudebrod 10/0 (really a 17/0), grey or olive
Post: Tiemco Aero Dry, fluorescent pink
Hackle: Rooster, light blue dun
Tail: Microfibbetts, light blue dun
Body: Goose biot, blue-winged olive or tan
Thorax: Superfine, blue wing olive or tan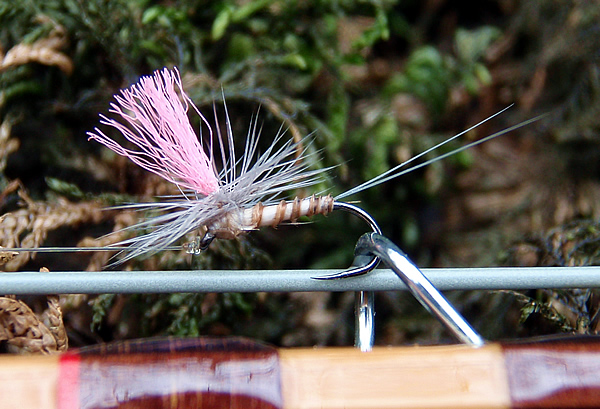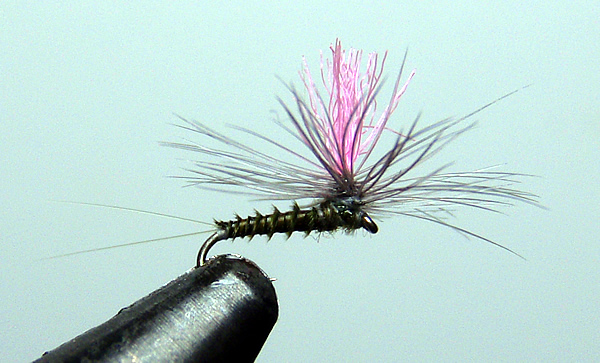 Tungsten Bead-Head Pheasant Tail Nymph (Variant)
This PTN (another monumental achievement in fly design thanks to the iconic Frank Sawyer) tends to be a 'bug of all sorts', and does well at representing a wide range of Trichoptera nymphs, such as Baetis (e.g. – BWOs) to Heptagenia (Yellow Mays). More importantly, it has the major trigger points of an all-purpose/suggestive fly pattern and has stood the test of time. Recognition for this variant pattern must go to Mr John Tyzack, as I now tie all my PTNs with a tail of five/six nicely barred rooster hackle fibres, a slim and segmented abdomen, and a spiky squirrel thorax thanks to John's tying. This pattern also has enough weight thanks to the tungsten bead and, therefore, sinks quickly. This pattern is the only nymph I use on small streams, and I have huge confidence in them. Fished individually or by using the Duo/New Zealand/Klink & Dink method, this is the only nymph I need. Note: I've used grizzle rooster hackle fibres in this pattern, but any other barred feather fibre (such as Coq De Leon, for example) would be just as perfect.
Hook: Kamasan B100 #16
Bead: 2.5mm tungsten bead
Thread: Roman Moser Power Silk 10/0, olive
Tail: Rooster hackle fibres, grizzled
Body: Pheasant tail fibres
Rib: Fine wire, gold or copper
Thorax: Squirrel Fly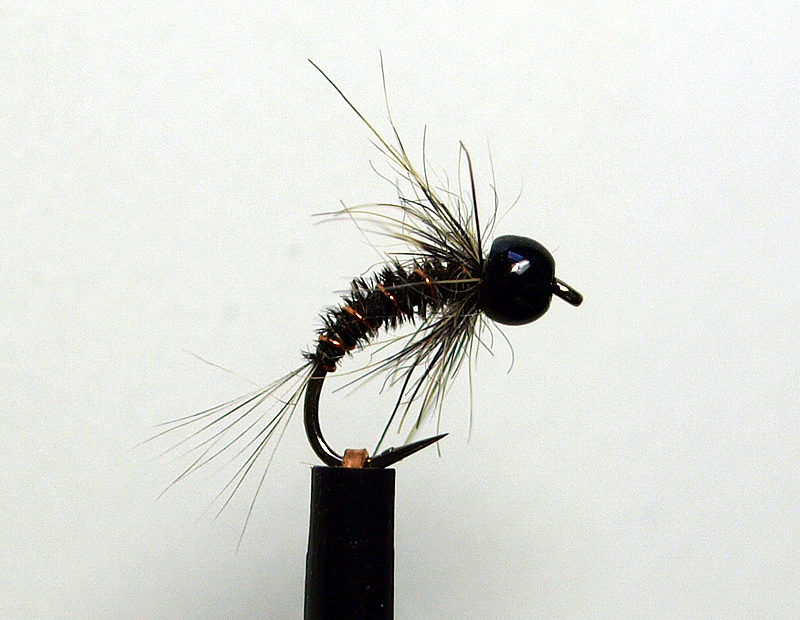 Conclusion
All of the flies I've mentioned above work, it's as simple as that, although the above selection is just my personal choice due to the confidence I have in them (and due to the fish they've caught!) That said, you may have your own favourites, but the important thing to remember here is simplicity. The trout in these wild micro-environments are as opportunistic as they come and will snap up a larger-than-usual dry fly trundled down a fast rapid with lightning reflex. Because of this, I've purposely kept the fly selection to a bare minimum. As long as your flies generally mimic the naturals, and as long as you have confidence in your flies, as long as you are able to make your approach as stealthily as possible and can present your artificial without spooking the wily little devils, you'll catch fish.
Fishing Techniques
Stealth is the name of the game here so fishing your flies upstream, and from a position behind the upward-facing trout, is a must. In the confined environments of small streams, you will find overhead casts become more and more impossible and even side casts will sometimes be a little too much; instead, roll casts and short-range casts become standard. Keep as low as possible, literally, and whenever you are able, get down on your knees. This form of fishing is very hard work but can mean the difference between zero and dozens of fish. Aim for every run, riffle and every piece of slack water behind, in front and to the sides of stones/boulders, and don't be afraid to search out the slack water too. The slower runs will require much more care, however, as your movements will have to be slow and gentle, otherwise, you risk spooking the fish with. If you can help it, stay out of the water. If you have to wade in these slower running areas, be careful and try to avoid making waves, so to speak.
Stream Rods, Reels and Fly Lines
More of a personal application can be seen in the use of rods. I have a range of small stream loving friends who, in turn, fish with a differing range of rods; from 5′ full-flex wands to 8′ tip-flex canons. From #0 weights to #4 weights, the rod choice is totally up to you. More importantly, you need a rod which is comfortable for you and one which won't over gun the fish. A 3wt is generally seen as standard, but you can go lighter with either a 2wt or even a 1wt. That said, and if things turn windy, you're on your own. Length-wise, again this is a personal preference; however, if you're going to be fishing the small, enclosed, and confined spaces of a small stream environment, I would go no larger than a 7'6″ rod. Action-wise, and as you'll be fishing 'close-quarters', a rod with a fuller flex rating/softer action would be ideal as it will load a short length of the fly line much better than a fast/tip-flex rod. Me, I use my tried and trusted 6′ soft action split cane rod rated for a 3wt line, and I partner this rod with a light-weight and durable large arbour reel (I favour the Danielsson Original reels) and my faithful, hard-working, Scientific Anglers Mastery XPS double-taper fly line which, over the years, has landed many Klinkhamers and CDC & Elks gently on the water's surface. I happen to love small rods, and my go-to 3wt outfits are like old friends, as eager to spend another day fishing a small stream as I.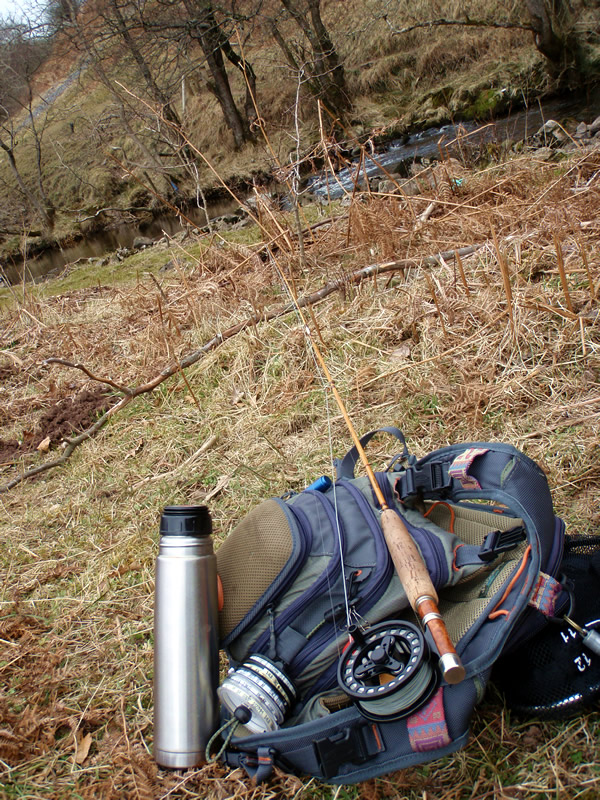 Travel Light
With your small fly box of four patterns, a bottle of water/flask of coffee and an energy bar or two, you'll be set for a day on the tributaries and small streams. You will be walking a lot in these small stream environments too, so it is fairly important to travel light, or you'll be tired before you get anywhere, therefore, light-weight wading boots help. I also find a Chest/Backpack holds everything comfortably and helps disperse the weight easily enough that you aren't feeling tired or experiencing back pains after just a mile. Add to this a pair of breathable waders, and you're done. You don't necessarily need waders in these environments of course, although it certainly helps; we haven't got the warmer US conditions as experienced by the Gierachs, Leesons, and McGuanes.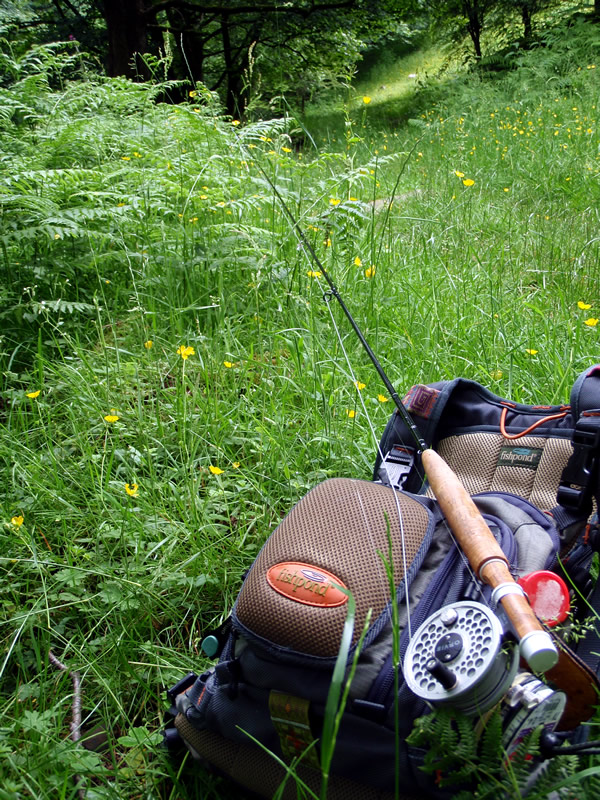 Leader & Tippets for Small Streams
Regarding leader and tippet material, this again comes down to simplicity. I personally favour Orvis' 7'6″ tapered leaders, specifically, those tapered down to 6X/3.5lb BS. I'll start by fishing directly off the end of the tippet, or after the expected changing of flies/shortening of leader, I'll add an applicable length of 6X tippet; my tippet preference is Rio's Powerflex.
The Results
Stealth plus simple flies equals wild brown trout, it's as simple as that. If you aren't absolutely shattered after a full day on a small stream, you're doing it wrong. Happy streaming!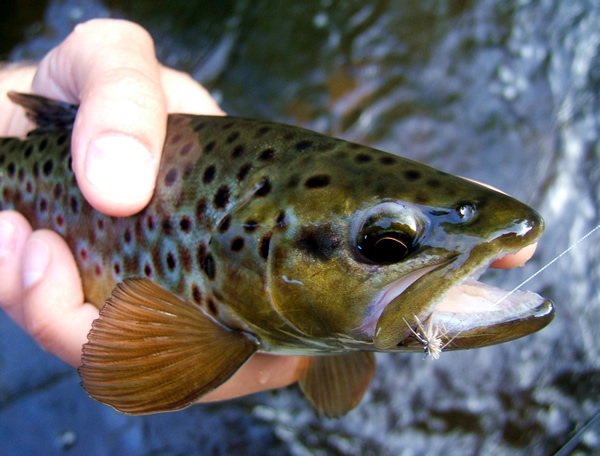 About the Author
Gareth Lewis hails from the base of the Brecon Beacons National Park in South Wales, UK and can be regularly found crawling around the local small streams which run through his locality like hundreds of wild, sparkling blue veins. A keen wild brown trout angler, Gareth is also a passionate fly tier and is fascinated with tying small/micro flies. More information regarding Gareth's fishing and tying can be found via Gareth Lewis Fly Fishing.