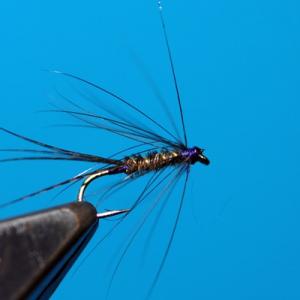 Usk Naylor
This article was written some years ago and has been the subject of discussion from a number of sources and I have been asked to clarify some aspects of the tying of this pattern.
The only published reference to the pattern that I am aware of can be found in Moc Morgan's book "Fly Patterns for the Rivers and Lakes of Wales (page 195 ISBN 0 86383 135 4).
I was first introduced to the pattern by a river Keeper from Glanusk Estate Stuart Jarvis. He made to significant comments to me that the pattern in Moc's book was not completely correct in that the hackle should be Dark Andalusian Cock and not Blue dun as described. At the time of its conception, many Welsh anglers kept their own Andalusian Cocks and plucked a feather from them for tying. The cape almost looks black in colour. The second point that was made was that the hackle should be tied spidery and sparse.
The pattern was the invention of a Mr Naylor who was a rod who fished the River Usk at Worcester Cottage the summer lodge of the Duke of Beaufort at the time. Not being a fly tier he asked the Keeper on that beat a Leslie Peters to tie it for him. I was fortunate enough to be shown an original as tied by Leslie Peters and the pattern I have tied has been done as a copy of that original.
In the video, I have used Danville's tying thread as at the time of tying it was difficult to source the original Pearsall's tying silk in purple. This may now be brought from Langley threads in Cardiff (sales@pearsallsembroidery.co.uk).
There have been a number of comments made about the pattern I have tied and as I have seen the original and have an idea of what it should look like. The real point is that they catch fish and a lot of them.
Those that do not like the proportions should realise that the longer tail imitates the shuck of the nymph and the original was tied dark to light from back to front and not the other way around as some have surmised.
I have been told that the pattern was also tied with a grey mallard flank feather for summer use and this was also changed for heron herl which is now banned so pigeon will do nicely, however I have not seen this written anywhere but makes perfect sense although I would tie it considerably smaller (size 16).
I hope now you can go and tie them as you wish as they are your flies and that I will no longer be accosted by the fly Police.
Yours, Mark Roberts.
Hook: Wet Kamasan B175 size 14
Silk: Purple
Rib: Fine gold oval
Tag: Purple tying silk
Body: Bronze herls wound round body
Hackle: Dark Andalusian Cock hackle or dark Blue dun
Head: Purple silk.