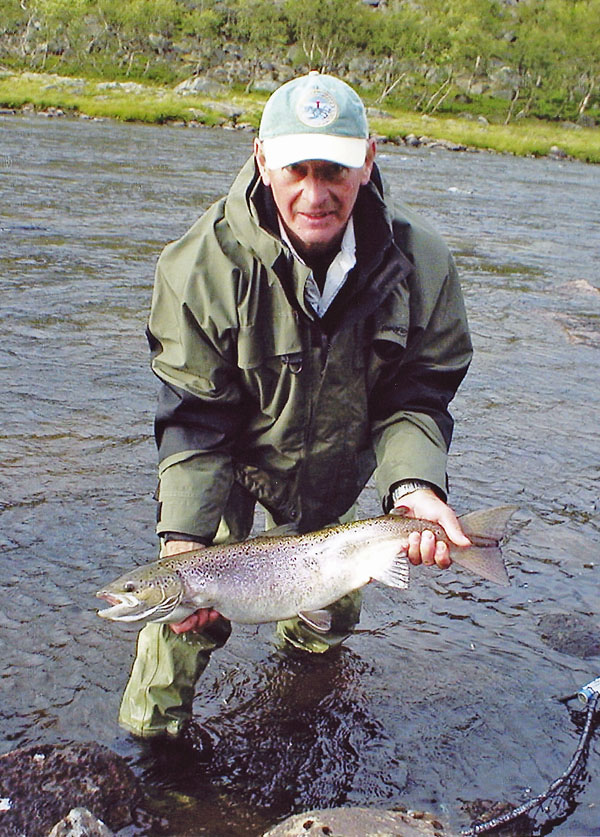 From Casting Clinic to First Salmon
An article by Mark Roberts.
As you may or may not be aware the society decided three years ago that we had to have a qualified coach in the club for insurance purposes when running the open days at Ty Mawr.  Subsequently, an enquiry was made with the Trout and Salmon Association and I volunteered to attend their new Level II Coaches course for trout or effectively single-handed fly fishing.  It sounds easy, doesn't it?  I then found out that the cost would be £400 and the club agreed to pay half the costs.  As I did more research I found out that it was not just a case of being examined for technical casting skills, but I would also have to learn many other skills including knowledge of Child Protection issues and first aid.
The course was more than just about teaching fishing is was more about putting that fishing knowledge across in a sensible and constructive way.  The course lasted four days with an assessment day in the end. It was not easy to pass in fact out of nine candidates I was the only individual to pass as a level II coach on test day.  Later on, in the year I passed the salmon or double-handed and fly tying coach assessments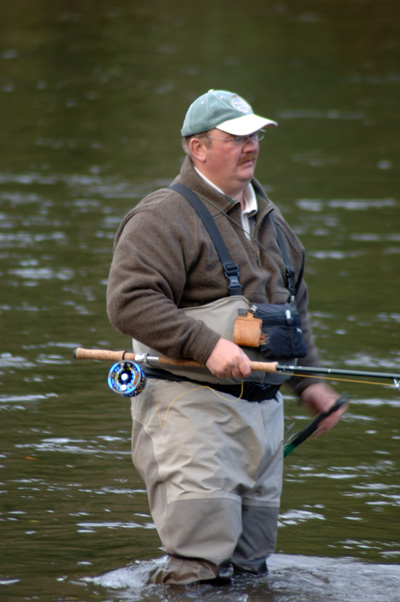 In order to give something back to the society and a real desire to help those that were interested to get more out of their sport, I started a summer evening casting clinic.  It was supported in the first year by two people which were disappointing but they enjoyed it and learnt new skills and got rid of some bad habits.  I thought about whether to run it again but having spoken to a number of the club members I thought that it may be worthwhile.  I extended the course to include double-handed fly casting.  This generated great interest as many salmon anglers expressed the view that they would prefer to catch a salmon on the fly but did not have the skills or confidence to try the double-handed rod.
In addition, I was contacted by a few others who had never fished before and so a class of between 10 and 16 evolved through the summer.  After initial concerns were put aside by those attending and when everyone did not feel the fool that they thought they would confidence started to grow.  The main thrusts of these clinics were to get people casting safely and put their fly in a place and angle that would evoke a response from a salmon with the double-handed students and for the single-handed students to get them to cast a delicate straight cast and then develop their ability to fish those tricky spots where only a roll cast with a reach and slackline would do.
Fishing tactics and methods were demonstrated and learned by those that came.  Casting faults and their cause were identified and resolved and most important of all we all had a bit of fun. That is probably the most important element to fly fishing have fun.
As time went on it became apparent that a few of those attending had never caught a salmon and that they were planning to go to Russia to catch their first.  The enthusiasm was now rising as the end of the clinic was coming to an end in the second week of August. People were seen on knees praying for rain as it was known that then that the grilse was showing in the estuary.
Others were going to Canada and some to Russia. All expectant it was great to see.
John Viggars was to travel to the Rynda on the Kola in Russia with the Kharlovka Company.
This company offer those who may not normally get a chance to fish such rivers the opportunity to fish the fly for salmon.
All the requests under the salmon foundation scheme are reviewed by the owner Peter Power and he decides who goes. Full details can be found on the website www.kharlovka.com
John explained to me that he had never cast for salmon with a double-handed rod before.
We were able to sort out the right type of rod for him with a balanced line and reel and it was not long before he got the hang of it. The truth is that once you understand how the rod works, have a balanced outfit and practice good consistent casting becomes a natural act. It is all about muscle memory.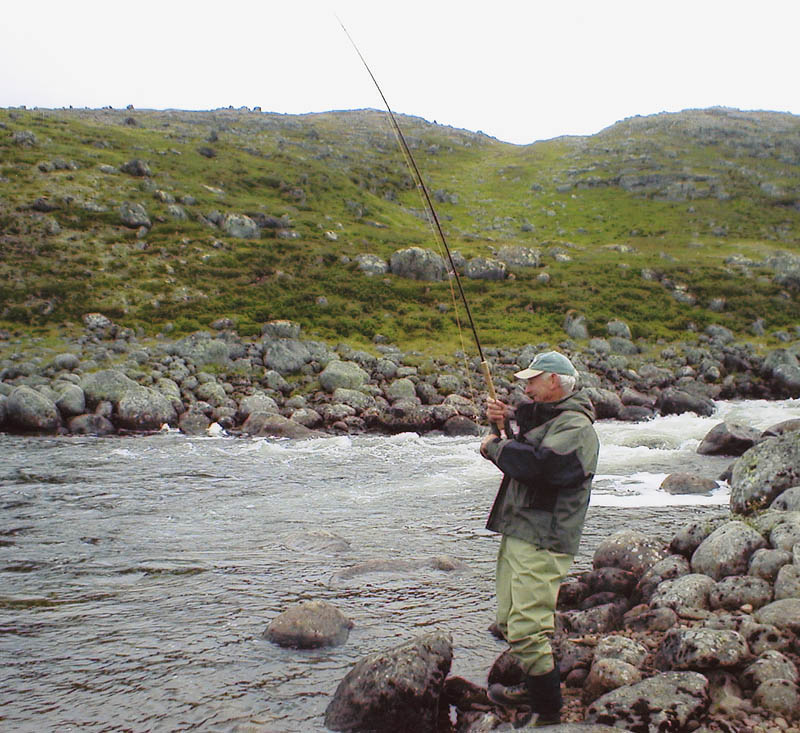 Here he is in Russia into his first-ever fish. A fish he will never forget.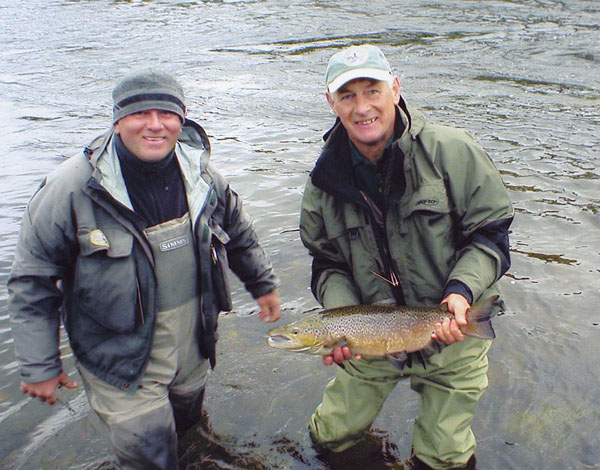 Safely landed the smile on both his and his guides face say it all. However, John was not finished there over the next few days he landed more fish and some were fresh off the tide. Well done mate.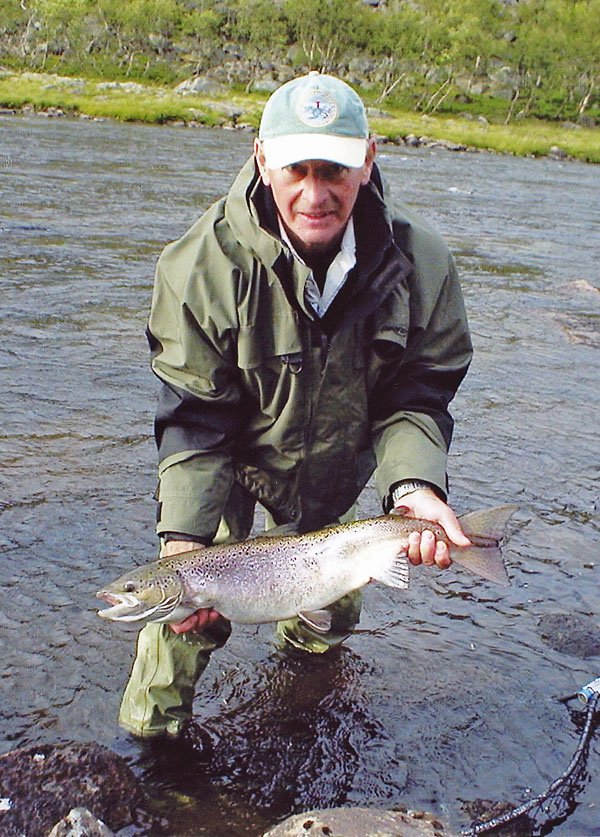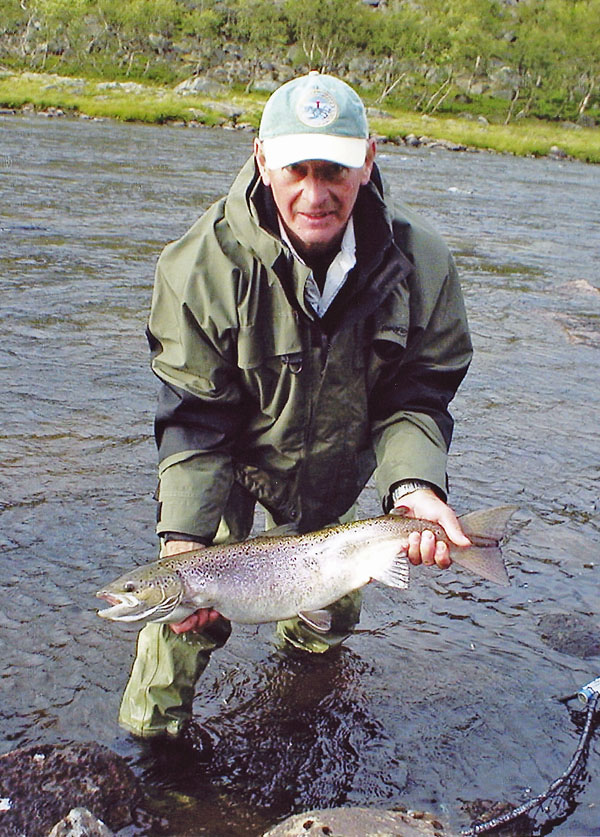 Dale from fish tech also came to the casting clinic. Dale explained that he was an out and out sewin angler and just felt that it was time now to catch the king of fish.
Dale was another who went to Russia and fished on the Kharlovka and Eastern Litza rivers which are the sister rivers to the Rynda. These two rivers produce some mighty fish a lot of which do not make it to the net as they are just too powerful and feisty to be tamed by the likes of you and I. Trust me I know I have hooked and lost some memorable fish on both these rivers in years gone by. Dale's experience was a big learning curve for he had to work hard for his first salmon. A nice fish of 22lbs.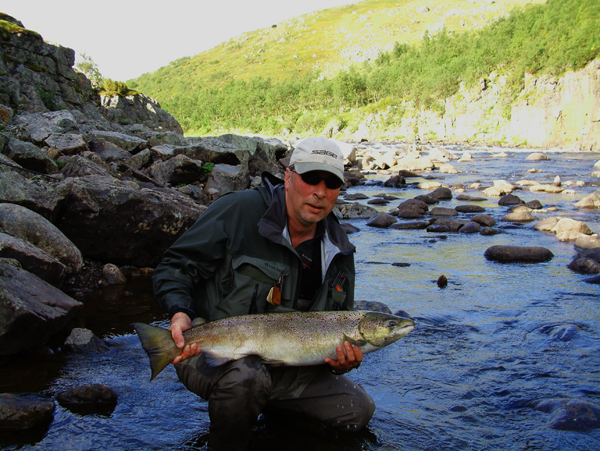 This hen fish was a lovely fish but Dale actually had the freshest fish of the week on the Litza with a magnificent fish of 18lbs. A real bar of silver as you can see.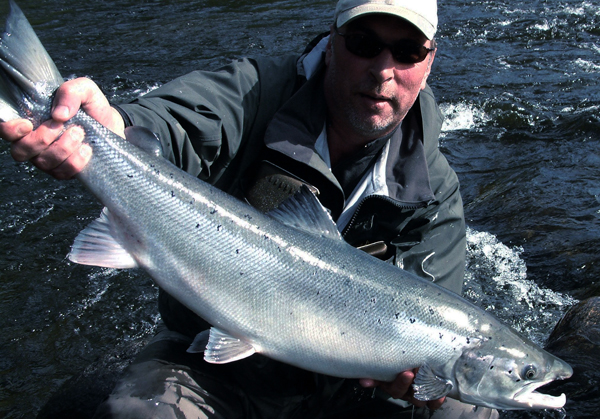 This picture of Dale and the fish was only one of several taken as it would not keep still.
Well done Dale perhaps we may have dulled your passion for seatrout with the alternative silver tourist.
Others from the society went to Canada to try for their first salmon. Two of them were Malcolm Moon and Jason Cruickshank.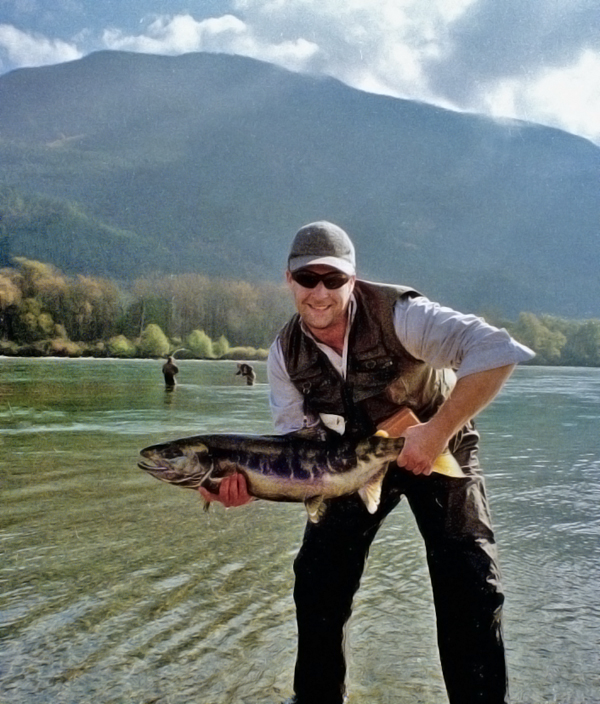 Both caught fish from the Harrison system near Vancouver.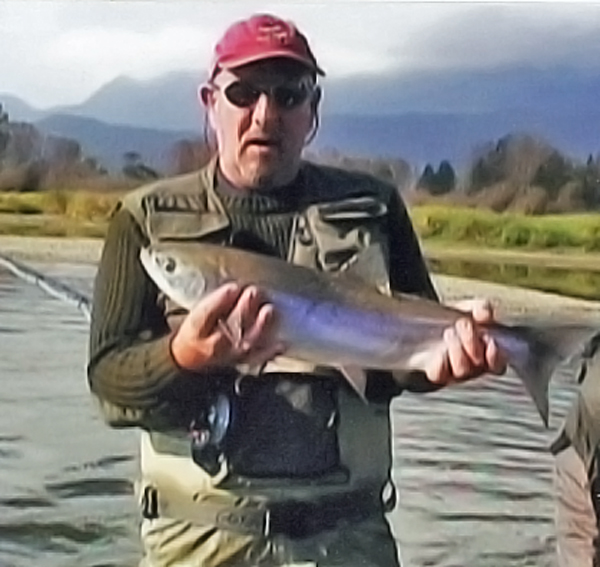 Their tales of adventures and excitement are detailed in another article on this site.
If you fancy learning to cast a single-handed rod or double-handed rod and develop your skills to fish for trout, sewin or salmon then join us this year at the casting clinic on the River Usk near Gilwern.
A small fee is payable on the night which goes to the club funds unless you are under 16 and then it is free.
If you are interested then contact the secretary and details of the dates will be given.
Good fishing and tight lines.