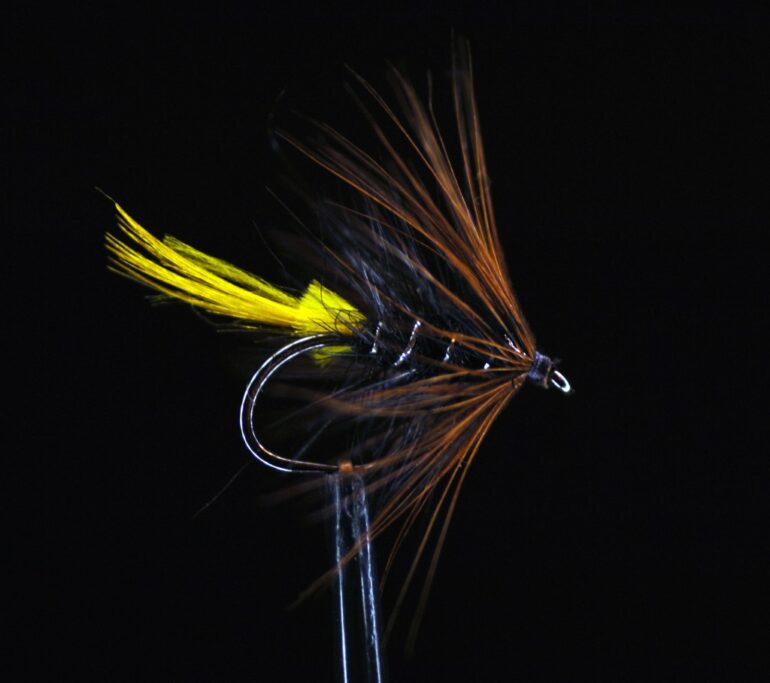 Kate McClaren
This is a classic wild brown trout pattern for use on lochs or stillwaters, whether you are on a boat or fishing from the bank. Normally fished as a top dropper on a team of two or three flies and fished just below the surface. The Front hackle creates movement in the surface film and is a great fish taker.
Silk: Black or white 8/0
Tail: Golden pheasant crest. Yellow Glow Bright No 10 (optional)
Rib: Silver oval size small
Body: Black seal's fur dubbing.
Body Hackle: Black cock (Chinese or saddle)
Collar Hackle: Red game hen or cock
Head: Black
WHY NOT JOIN US?
The Gwent Angling Society is a progressive, conservation-minded club offering fishing on six beats on the River Usk, two on the River Wye, the Sirhowy river and Afon Llynfi (Powys), and the wonderful Talybont Reservoir. Our waters can be viewed here. If you are interested in joining us or have any queries, simply contact our Membership Secretary.