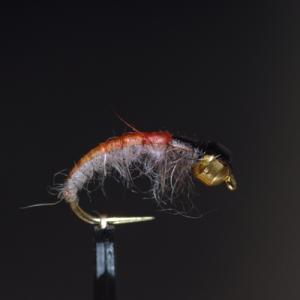 Heavy Weight Hot Spot Larva (Czech Nymph)
Hook: Varivas 2200 size 12 or Hanak H300 BL size 12
Rib: Clear 1 lbs nylon
Shell Back: Hends Body stretch colour 33 or light brown 08 magic shrimp foil.
Body: In 5 parts. cream rabbit, followed by cream rabbit mixed with Pink, followed by Pink mixed with pink ice dub
followed by grey opossum followed by brown opossum.
The back is then coloured from the rear with a Pantone pen in the following colours: orange followed by a red hot spot over the pink ice dubbing brown followed by black.